Since the beginning of February, Elixr Coffee Roasters from Philadelphia has been our Roaster in Residence at the La Marzocco Cafe. Not only did they transform the menu, allowing us to experience their coffee and signature beverages here in Seattle, but they also transformed our space with stunning works of art by Philadelphia artist Gerri Spilka and bustling coffee-tasting Omakase sessions each weekend. Today we're sending our thanks to Elixr's Founder, Evan Inatome and to his incredible team, especially those who came to Seattle to train, host classes and hang art! We are so grateful to you all and have had a blast serving your coffee. Be sure to visit the Cafe by Monday, March 25 to experience Elixr Coffee in Seattle.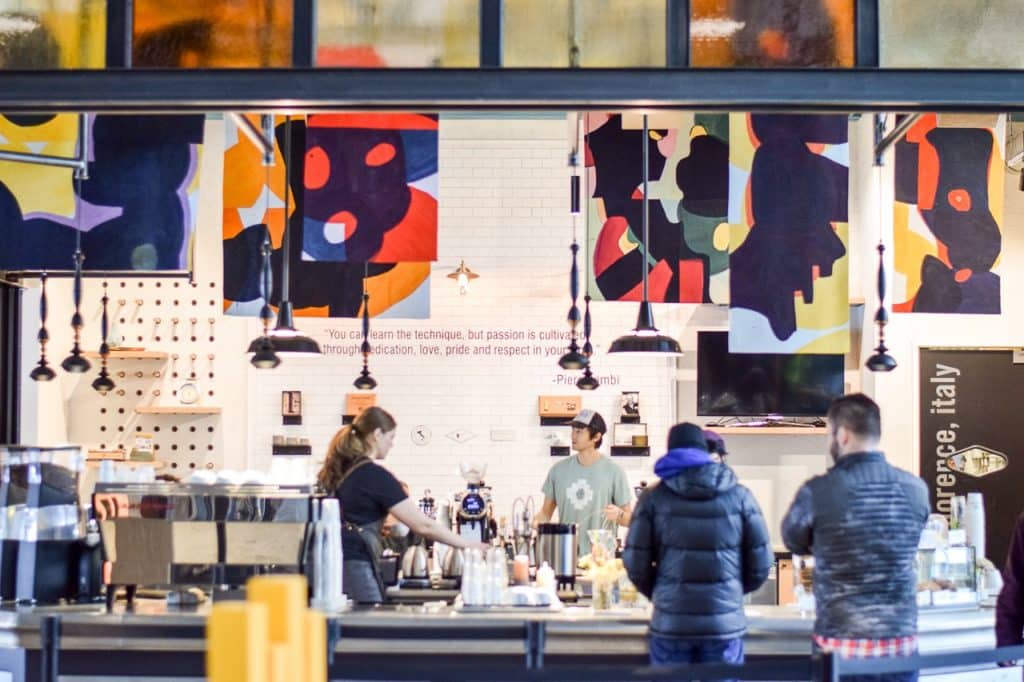 The weather is shifting and with spring in the air, we think of new beginnings and exciting changes. Over the last 3 years, each Roaster in Residence at the La Marzocco Cafe has been designed by one of our global roasting partners. For our next residence, we're changing things up! From March 26 through April 29 the service and menu have been completely created by the La Marzocco team.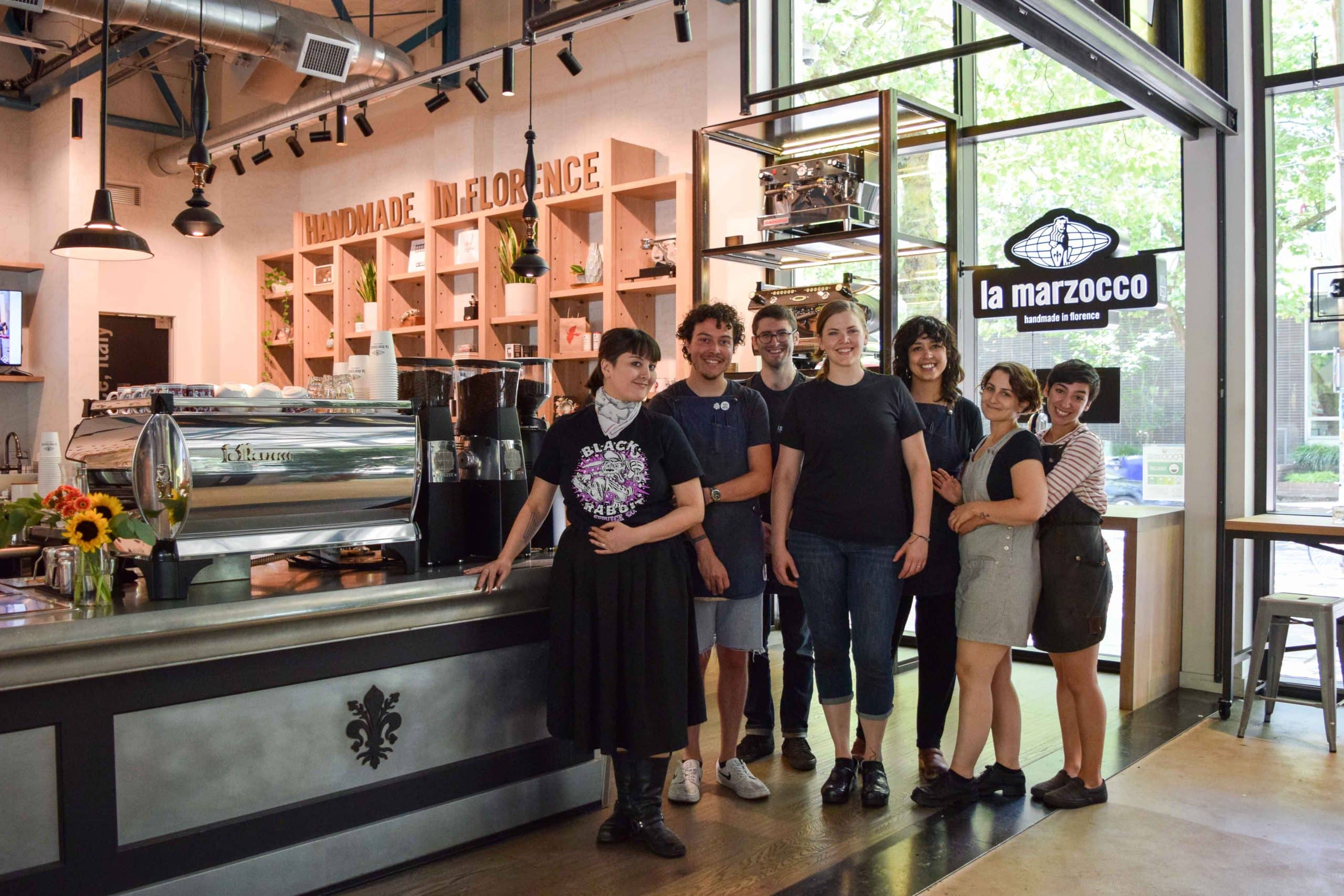 During our residence, we are proud to be featuring La Marzocco's brand new espresso machine, the KB90! This will be the first time that the KB90 is used for coffee service in the United States. The KB90 is a revolutionary new espresso machine that has been designed to improve the speed, efficiency and ergonomics for the barista. From a customer perspective, it may be hard to notice the changes, except for the fact that your drinks may show up a bit sooner than you were expecting! If you are interested, sneak around to the back of the machine so you can watch our baristas build your drinks. The KB90 features a portafilter that inserts straight into the machine. This was designed to reduce the strain on the barista while also creating a more efficient motion to improve speed of service. The KB90 was named for La Marzocco's Chairman of the Board, Kent Bakke, one of the pioneers that helped create the espresso revolution in Seattle back in the 80s.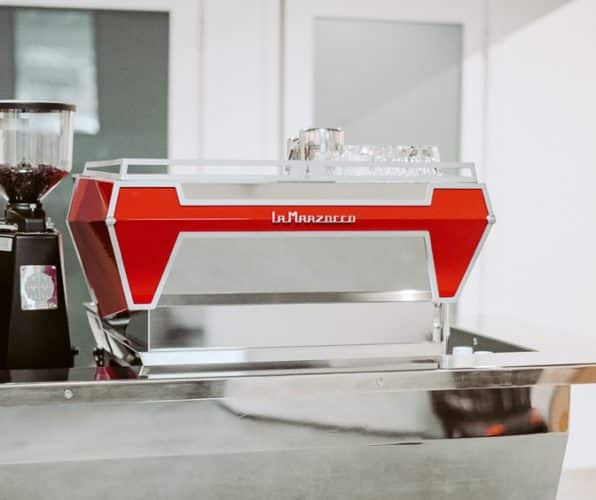 Throughout our residence, we'll be telling the story of La Marzocco's history in the Pacific Northwest. In honor of these deep roots, we are proud to be featuring coffees from four different PNW roasters: Bluebeard Coffee Roasters, Coava Coffee Roasters, Dorothea Coffee and Elm Coffee Roasters.
Bluebeard Coffee Roasters
Born and raised in the Pacific Northwest, Bluebeard was founded in 2011 by Kevin McGlocklin and Annie Philipsen, who have always been focussed on delivering beautiful coffee to the people of Tacoma, WA. Bluebeard samples and buys the very best beans they can source, largely from throughout Latin America, Indonesia and East Africa. They believe their roasting process brings out the very best in the beans – deep enough to develop sweetness and depth, light enough to leave the subtleties of berry, citrus, spice and floral characteristics intact. This year, Bluebeard's mission includes fostering lasting relationships with people they love to work with and who grow and process mind blowing coffees, to support the livelihoods of their own people, to create lasting positive impacts in their community and to wrestle with the amount of waste they create. (Bravo!)
More at bluebeardcoffee.com
Coava Coffee Roasters
Coava began in a North Portland garage back in 2008. Matt Higgins, veteran barista and roaster, bootstrapped the company by repairing motorcycles until he could afford his first roaster. To anchor the company he named it after the oldest western word for unroasted coffee. He knew excellent "coava" was essential to everything he wanted to achieve. Coava now operates three cafes in Portland Oregon, a fourth in San Diego California, a comprehensive wholesale program and a robust roasting facility that includes a tasting room open to the public. Coava travels the world in pursuit of coffees with the highest quality, complexity and balance, spending months at origin every year courting the most conscientious coffee producers. Coava is deeply rooted in the Pacific Northwest and enjoys participating in the robust specialty coffee community here. In 2018, Founder Matt Higgins was named Oregon Small Business Person of the year!
More at coavacoffee.com
Dorothea Coffee
Dorothea Coffee began in 2015 as a small roastery and weekend pour over bar in the downstairs of a rental home in the Central District of Seattle. This humble space allowed everyone who came through the door to drop their expectations, allowing owners Conor Mahoney and Ashley Sirls and the guests who visited to engage fully with the space, the coffee, and their neighbors. Conor fell in love with coffee and its power to bring people together when he was in high school, worked in coffee throughout college and now runs Dorothea's day to day operations. Ashley works to keep Dorothea mission focused. Foremost an educator and doula, she is intently focused on Dorothea's place in the community: a space where neighbors come together and strong relationships are built. Dorothea now operates out of Georgetown, selling their coffee to cafes, restaurants and to customers online. Though startup costs are high, Conor and Ashley are dedicated to making good coffee simple and accessible and are hoping to find the perfect Seattle property to make Dorothea a neighborhood space once again. Until then, you can enjoy Dorothea at the following Seattle locations: Amandine, Marmite, Convoy, Juicebox, Little Lago.
More at dorotheacoffee.com
Elm Coffee Roasters
Elm Coffee was founded in 2014 by Brendan Mullaly. Brendan was born in Seattle, just 10 minutes away from Elm's Pioneer Square location. Growing up, he worked at various neighborhood cafes in Seattle before moving to New York where he worked at Joe Coffee for seven years. He moved back to Seattle in 2013 with the intention of opening his own cafe – which he named after his wife, Emily. Brendan states, "What I set out to do with Elm was to open the kind of cafe that I would want to spend time in as a customer – a place with exceptional coffee, comfortably beautiful surroundings, warm and friendly service… a place that fostered conversation." He goes on, "Our mission is simple, but not easy – it's all about the details. Every day we obsess about each small step of the process of getting excellent coffee to our customers. To consistently deliver on that takes obsessive focus on quality and precision – we put a lot of care into our coffee." When roasting their coffee, Elm looks for the sweet spot: balanced, interesting, and the kind of coffee you want to drink a whole cup of, not just have a taste. They want each coffee's unique flavor to shine through, which is why every coffee they offer is a single origin.
More at elmcoffeeroasters.com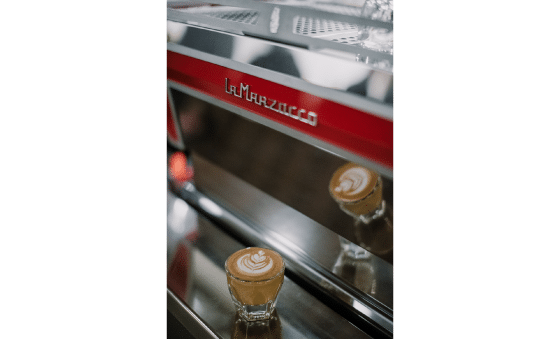 Menu Highlights
We've created a simple menu to spotlight these coffees, in addition to three signature drinks created by our own team.
Espresso
9 Swans, Elm Coffee Roasters, Seattle, WA. Elm's current seasonal selection is a lot from their longtime producing partner Jairo Nuñez and his wife Mireya Trujillo who grow primarily caturra varietal on their farm Finca El Roble in Huila , Colombia. Jairo uses homemade organic fertilizers and biodynamic principles on his farm, spraying his plants with a compost "tea" that has helped produce healthy plants, and beautiful sweet and fruity coffees. We'll be serving this as a straight shot of espresso, highlighting its flavors of orange, cherry and honey.
Robinson Figueroa, Coava Coffee Roasters, Portland, OR. Coava considers Robinson Figueroa a stand out among his coffee producing peers. As a 4th generation producer, he focuses on quality production over quantity. The last time Coava visited Robinson, they were excited to see him planting a part of his farm with geisha and bourbon varieties. He uses water efficient processing equipment and has plans to build his own wet mill. On top of that, he has his own small cafe and is running many processing and varietal experiments at his farm. This espresso is rich and chocolatey and will be the base of our espresso and milk drinks.
Batch Brew
For filter coffee, the selections will rotate and change throughout the residence, with the following being some of the first we serve.
Misty Valley Aricha, Bluebeard Coffee Roasters, Tacoma, WA. Produced in Aricha, Yirgacheffe, this natural dry process and heirloom arabica coffee has tasting notes of strawberry milk, chocolate, tropical fruit and blueberry.
Buenos Aires, Bluebeard Coffee Roasters, Tacoma, WA. This coffee is organically grown in Junin, Peru and has tasting notes of raspberry, cocoa, caramel, kola nut and lime.
Kibingo, Dorothea Coffee, Seattle, WA. Produced in Burundi, this bourbon varietal is full of complexity, clarity and flavors of cherry juice, tangerine, raw sugar, and chamomile tea.
Cristian Adarme, Dorothea Coffee, Seattle, WA. This washed coffee from Colombia is exceptionally fragrant, bursting with juicy sweetness and tasting notes of sweet citrus, plum and hibiscus.
Signature Drinks
The Tuscan Sunrise
A favorite at La Marzocco, this signature drink combines flavors reminiscent of breakfast in Italy, and pays homage to our company's Italian heritage. For over 90 years La Marzocco has been making hand-crafted espresso machines in the hills north of Tuscany. To make this drink, we combine espresso, steamed milk and cream with a simple syrup made from black tea, clove, orange juice and zest, cinnamon, orange blossom water, and sugar.
The Mendoza
Our talented Experience Coordinator, Lani Pascall designed this chilled espresso spritzer to be a refreshing, springlike drink that would taste good with any espresso. It has sparkle (ginger beer bubbs), citric acidity (hibiscus), deep complementary sweetness (local honey), and paradoxical heat (ginger beer, again). Available March 26 through April 12
Florals? For Spring? Groundbreaking.
Created by one of our veteran Experience Coordinators, Lucas Rickerson, this slightly sweet and cozy beverage celebrates the transition into spring and all the lovely blossoms we experience in Seattle. It combines chamomile and green tea, lavender, rose, orange blossom, honey and steamed milk. Available April 13 through April 29
Our full menu will be available on our website beginning Tuesday, March 26.
Events
Friday Coffee Tasting – Friday, March 29, 10 AM
For the first Friday Tasting during our residence, we'll do a traditional cupping of all the coffees on our menu from Bluebeard, Coava, Dorothea and Elm.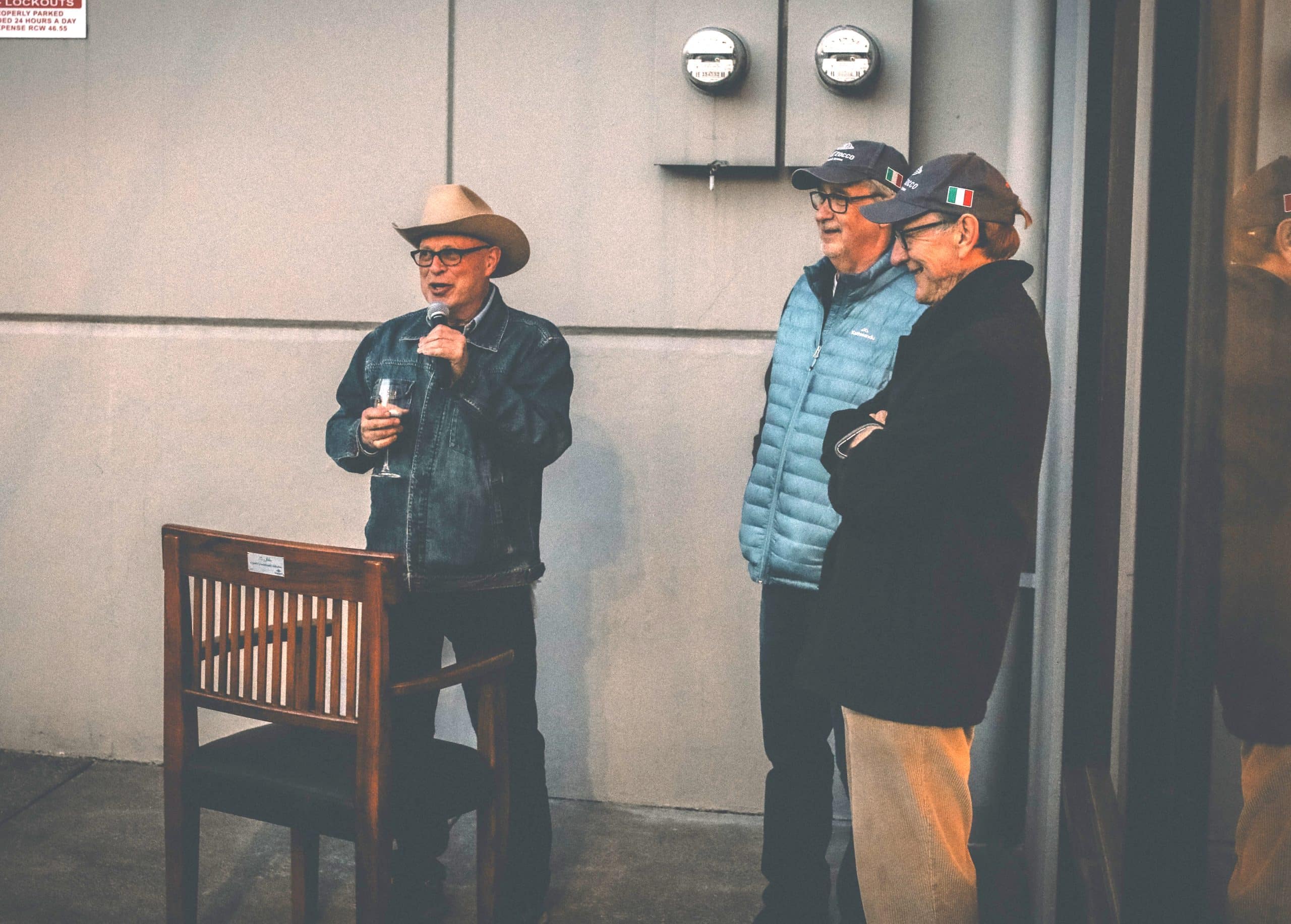 Coffee Chat with Joe Monaghan – Friday, April 5, 10 AM
Coffee Chat with Kent Bakke – Friday, April 19, 10 AM
Coffee Chat with John Blackwell – Friday, April 26, 10 AM
La Marzocco has deep roots in Seattle and helped create the specialty coffee movement that took hold in the Pacific Northwest. During our residence, we will be holding three very special Coffee Chats with the La Marzocco pioneers that were involved in the early days of American espresso culture. Come join us to hear their stories and drink some lovely coffee. It will be a great way to start off your Friday mornings.
Friday Tea Tasting: Somage Tea – Friday, April 12, 10 AM
Our usual Friday Coffee Tasting will be all about tea this week. Here to host will be Nathan Wakeford, Co-founder/Director of Somage Fine Foods, a company that has been sourcing and blending premium tea since 2007. Nathan will begin with a presentation on tea manufacturing and factors that affect quality. The presentation is intended to share expertise with industry folks interested in pioneering new standards for their tea program. The presentation will be followed by a Somage tea tasting that will include the following teas: Jasmine Pearls, Yushan Oolong, Liu Bao, Assam Tres #8 and Red Cloak Grande. More at somage.com
Head to our Facebook Events Page for more info and to let us know which events you'll be coming to so we can be sure to brew enough drinks for all!
We can't wait to share our residence with our guests in Seattle. The La Marzocco Residence will run from March 26 through April 29, 2019.