For many of us at La Marzocco, Seesaw Coffee offered something new and unique – the chance to experience coffee from China for the first time. As pioneers for specialty coffee in China, Seesaw is dedicated to educating farmers and improving production methods in Yunnan, while at the same time creating their own unique coffee culture in Shanghai. We are so thrilled that Seesaw has been able to introduce themselves here in the United States and we're grateful for the opportunity to host them in Seattle.
Not only have we been delighted by their coffee, but also the flavor combinations of their signature drinks and their traditional teas. Founder Tom Zong sent a stellar team to launch Seesaw's residence. Ray Li, Amelie Wang, Juliet Zhu and Lema Tan – we are so appreciative and we thank you so much!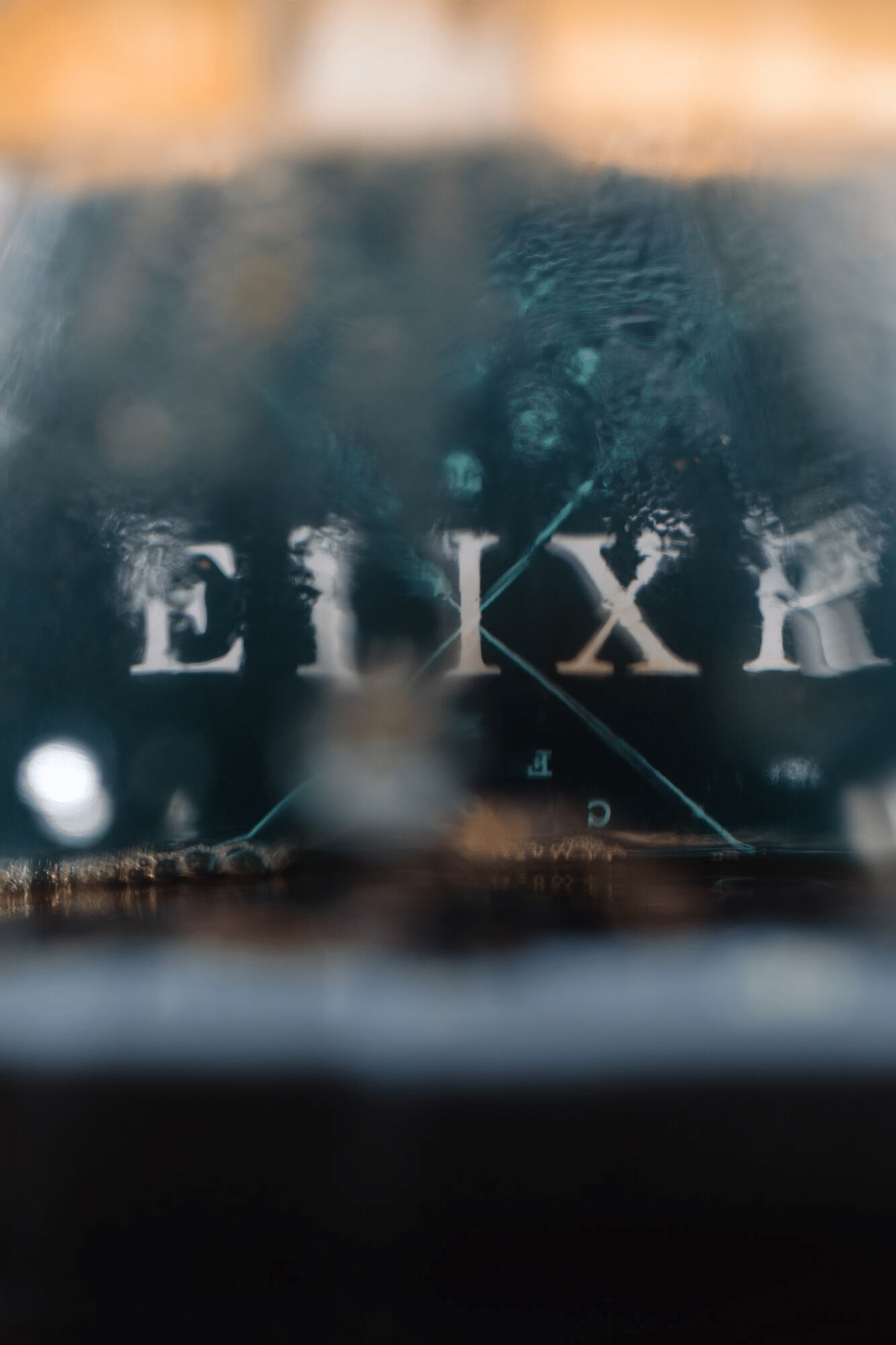 If you haven't been by the Cafe to check out Seesaw's residence, be sure to do so by Monday, December 3! The Cafe will then be closed on Tuesday, December 4.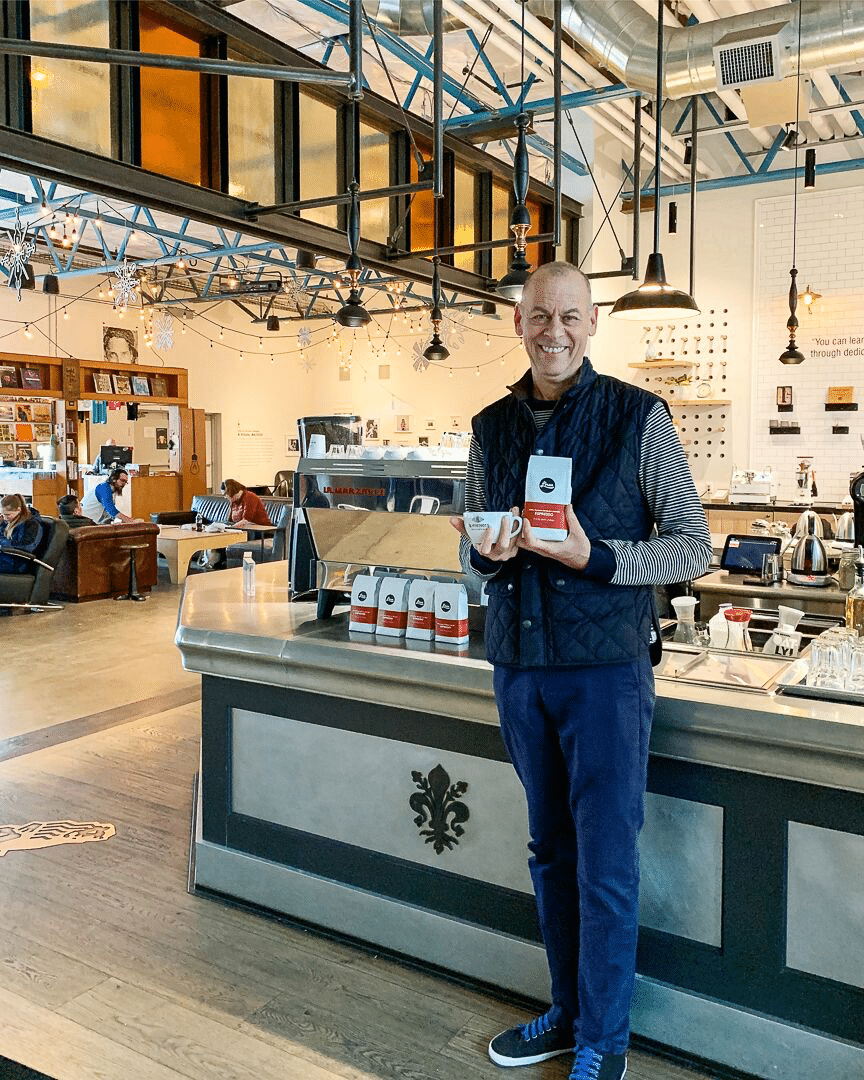 When we re-open on Wednesday, December 5, it will be to our next Roaster in Residence, Dapper & Wise Coffee Roasters from Portland, Oregon. Dapper & Wise has collaborated with some of their favorite artisans in Portland, so get ready for a holiday season full of beautifully roasted coffee, clever signature drinks and weekly pop-ups that are sure to delight!
Serving tasty, quality coffee is a given at Dapper & Wise, but we love that founders Evan Aldrete and Tyler Geel also focus on fostering JOY, building meaningful relationships, learning and teaching, being nice to everyone and having FUN! Read on for a preview of what they have planned for their residence at the Cafe.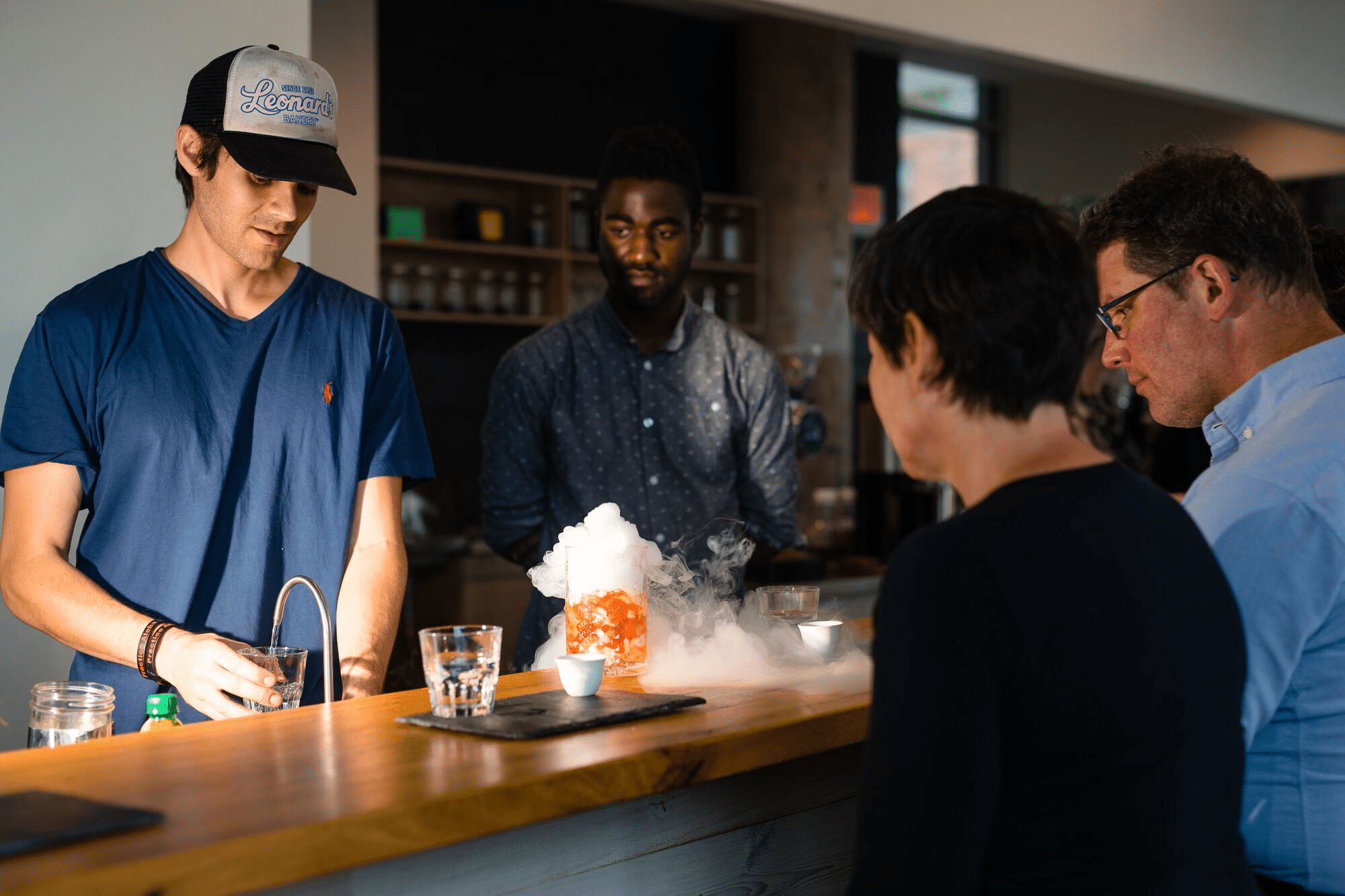 Joy in a Cup
Dapper & Wise has created a drool-worthy menu. Start by tasting the coffee in its purest form – a shot of Ethiopia Shantawene espresso, the Kenya Tambaya AB pour over, a mug of Colombia La Falda batch brew or a velvety cappuccino.
Then, get in the holiday spirit with a specialty drink, or two… here are some we're eager to try:
Cloudforest Mocha – Cloudforest chocolate, espresso, and steamed milk. Finished with a spritz of orange extract and Angostura bitters.
Spicy Pear Chai – Made with pear juice, freshly-juiced ginger, and steamed milk. The right amount of sweet and spicy!
Double Gold –  Spicy golden milk made with turmeric, ginger, apple, cayenne and steamed milk.
S'mores Mocha – Cloudforest chocolate, espresso and steamed milk topped with a roasted marshmallow and served with a graham cracker sidecar from Nineteen27 S'mores.
The S'mores Mocha will be available week one of Dapper & Wise's residence, followed by four more weekly-rotating festive drinks throughout the month. Come try them all!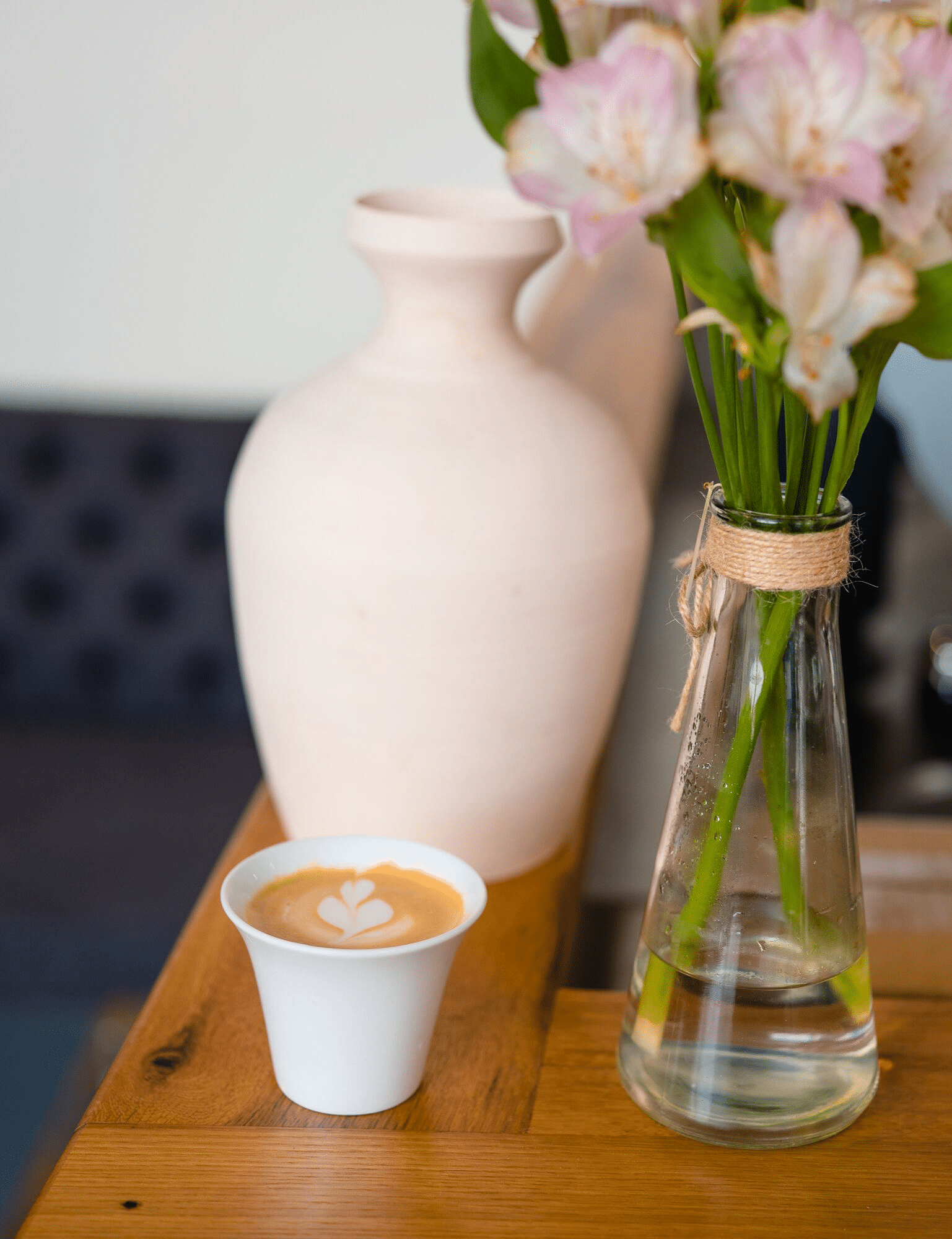 Holiday Calendar
Be sure to add these dates to your calendar! Dapper & Wise is throwing a launch party the first week of their residence (sign up for our Local's Newsletter to receive an invite), and will be hosting several other fun events and pop ups to keep the festivities going all month long.
Saturday, December 8, 6 – 8 PM, join in as Dapper & Wise hosts a panel-style conversation focused on the cost of coffee production. Light refreshments and coffee will be served. Free and open to all, but please let us know you're coming.
Saturday, December 15, 12 – 4 PM, Dapper & Wise will be hosting mini latte art classes. Each will be 30 minutes and are designed as an intro to the basics of free-pour latte art. Classes cost $10 each and you must register here.
Saturdays, December 8, 15, 22, 29, 11 AM – 4 PM, Vanessa Schmidt Co. Pop-up. Come meet Portland floral designer Vanessa Schmidt, she'll be here every Saturday in December making and selling her modern holiday wreaths. Each one is unique, influenced by the season and finished with hand-dyed 100% silk ribbon. Wreaths will be available for sale in the Cafe all month long.
Saturday, December 29, 2 – 6 PM, Late Shake Pop-up. Milkshakes created by Dapper & Wise Coffee Roasters Creative Director, Grahm Doughty. He'll be serving up his milkshakes that are created using unique, local ingredients and approachable flavor profiles.
Saturday, January 5, 11 AM – 4 PM, Bigwig Donuts Pop-up. Come enjoy donut holes made to order, crispy crusted with sugar on the outside, soft and doughy in the middle. Choose from classic flavors like maple, chocolate and cinnamon sugar.
Head here for more information on these events and pop-ups and be sure to share the cheer with your friends!
Dapper & Wise will be our Roaster in Residence Wednesday, December 5 through Monday, January 7.