May has been a beautiful month in Seattle and a very tasty one at the La Marzocco Cafe. Metric Coffee has delighted us with their thoughtful curation of brands, ideas and menu items straight from their corner of Chicago. A highlight of their residence has been the incredibly delicious specialty drinks and rotating selection of single origin coffees. The heart and detail that went into every aspect of Metric's residence is so appreciated. We want to send a huge thanks to Jess Salgado for leading the project on Metric's end. Along with Jess, we are so grateful to Harris Nash, Conor Smith, and of course, to Metric Founders, Darko Arandjelovic and Xavier Alexander. Thank you all for being here in person to train our team, launch the residence and get to know our Seattle guests. It's been an honor serving your coffee!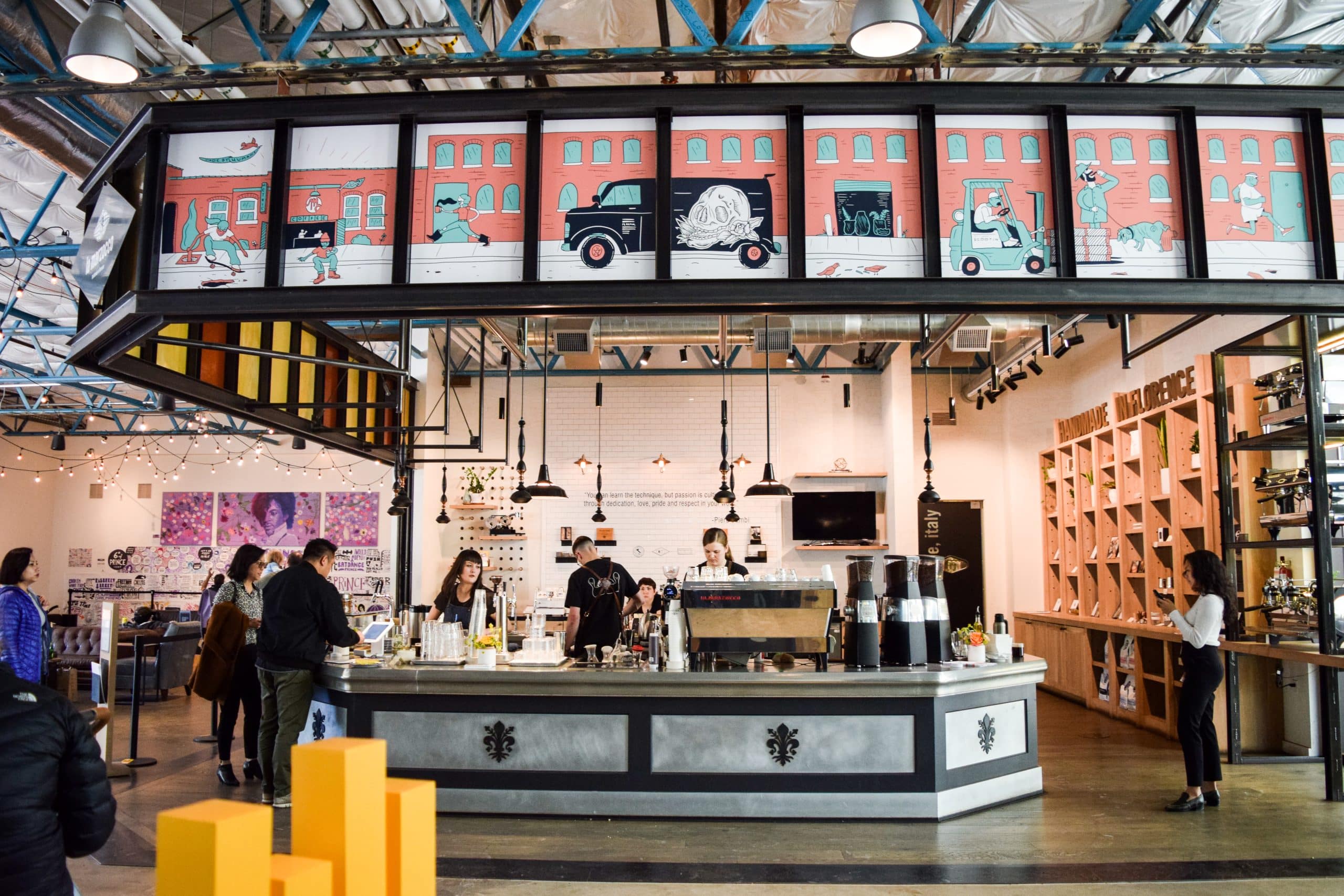 Behind the scenes, we have been planning perhaps our most ambitious residence yet. For the first time ever, we are hosting two coffee roasting companies – from opposite sides of the globe – in a special collaboration residence! We are so excited to welcome Bonanza Coffee from Berlin, Germany and ONIBUS from Tokyo, Japan! They have teamed up to create a diverse and global residence here in the United States. The collaboration will span from Tuesday, June 4 through Monday, July 8.
Bonanza Coffee Roasters was opened by Yumi Choi and Kiduk Reus in Berlin back in 2006. It quickly gained popularity as one of the only specialty coffee roasters in the area at the time. Ten years later, they opened a second cafe in Kreuzberg.
From Bonanza: "From the moment coffee is planted, until it's served, our coffee has gone through the hands of countless individuals that are all remarkable within their field. We are at the end of this cycle, our job is to roast the coffee, we do this with the best of old techniques combined with the best of new techniques, continually looking for the best production methods, this search and combination is also referred to as "Retro Innovation."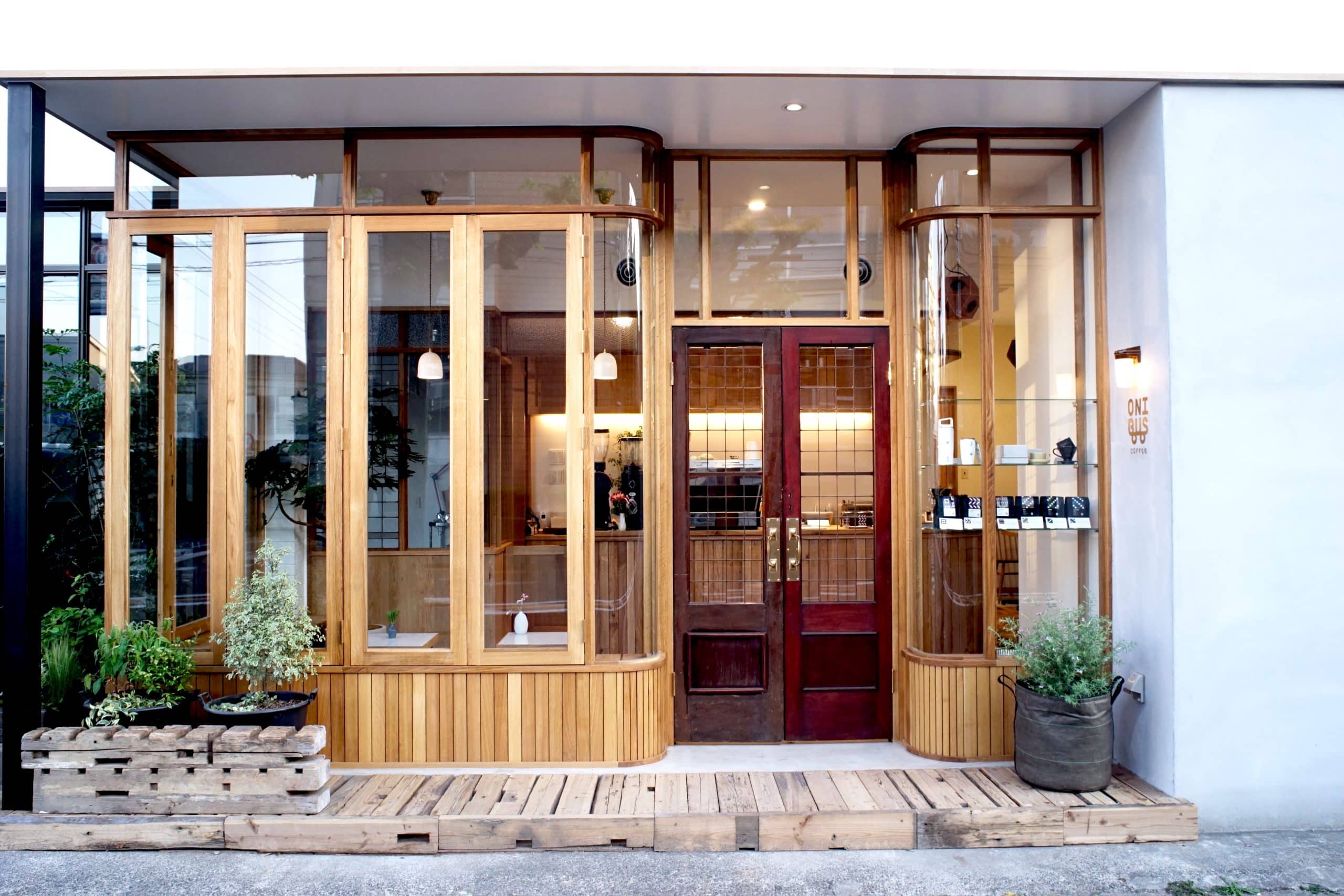 ONIBUS first opened in 2012 as a cafe and roastery in Okusawa, a small residential part of Tokyo. With the coffee scene in its early stages of life in Tokyo, ONIBUS wanted to spread third wave coffee throughout the city.
From ONIBUS: "ONIBUS comes from the Portuguese word for 'public bus'. The buses drive between neighbourhoods, connecting people to one another and helping to make communities. But at its heart it is a service for everyone. In the same spirit, ONIBUS aims to connect people through coffee. ABOUT LIFE COFFEE BREWERS was opened by ONIBUS in 2014. The concept of this shop was different: it's located in bustling Shibuya and serves coffee from other locally based roasters: including Switch Coffee and Amameria Espresso. Together, ONIBUS and ABOUT LIFE COFFEE BREWERS are part of the same family and you can find their baristas in both shops at various locations around Tokyo.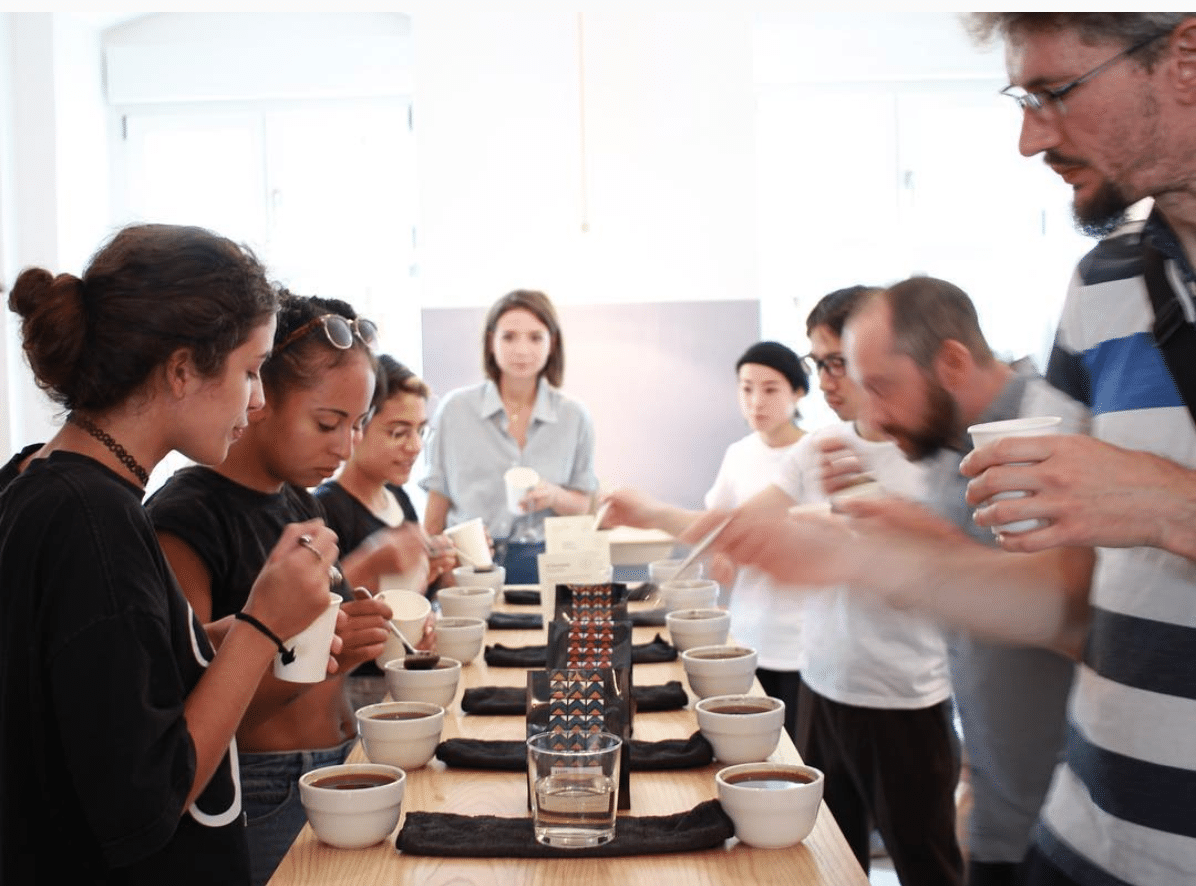 To get to know Bonanza and ONIBUS a little better, we asked them a few questions:
Tell us the story behind how Bonanza and ONIBUS came to have an international friendship?
It began in 2016. Bonanza decided to do a research trip to Tokyo. ONIBUS was always an inspiration to Bonanza and vice-versa, so we decided to collaborate together. We began with a joint coffee cupping at the ONIBUS roastery in Naka-meguro and followed up with a guest barista shift and guest coffee take over at About Life in Shibuya (a sibling cafe of ONIBUS). Bringing together our two teams and sharing our coffee with the people of Tokyo was a great feeling. The people of Tokyo were genuinely interested in seeing what the two brands had to offer and that made a huge impact on our teams as well.
The following year, ONIBUS decided it was time to visit Berlin. Bonanza had just opened their flagship roastery in Kreuzberg and ONIBUS was invited to train with the Bonanza team. Bonanza also returned the favour and for one day only the people of Berlin were able to taste ONIBUS coffee served by the ONIBUS team.
This year, we wanted to do something completely different. When the idea of participating in the La Marzocco residency came up, it was only natural to do so together, so in late 2018 we started emailing one another.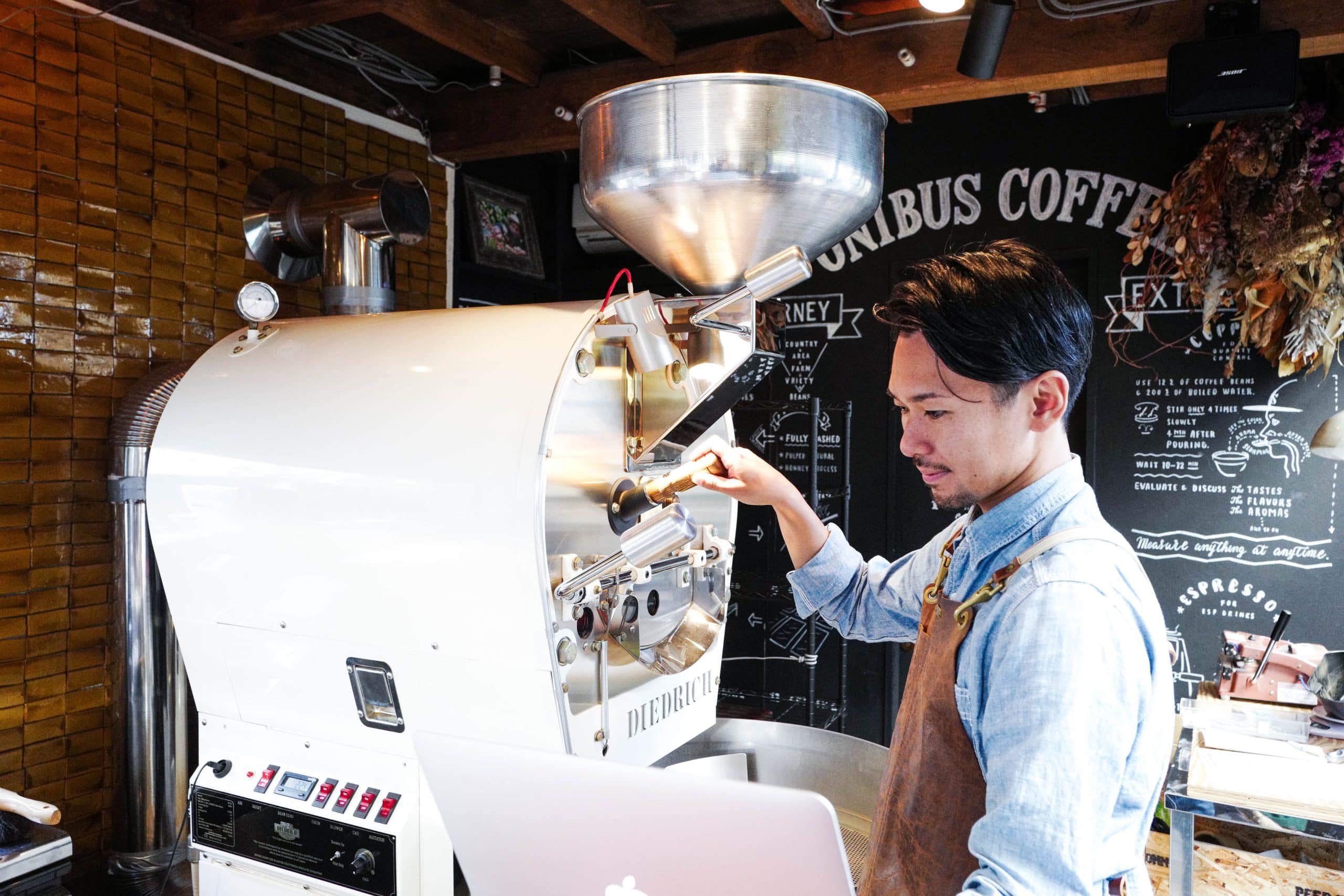 Why did Bonanza and ONIBUS want to collaborate for the residence at the La Marzocco Cafe?
We've swapped coffees, baristas, cafes, cities and countries before but the one constant was the espresso machine of choice: a La Marzocco Linea PB. 

When the opportunity came up to share our coffee with the people of Seattle, it only made sense that we do it together and being able to collaborate with one of the world's largest coffee brands really meant we could take our ongoing collaboration to the next level. We're excited to share a bit of Berlin and a bit of Tokyo with the people of Seattle, after all we believe that one of coffee's greatest strengths is its ability to connect people.
How do the roasting styles and coffee preparation of Bonanza and ONIBUS differ? How are they the same?
Both ONIBUS and Bonanza are focused on roasting and serving coffee that reflects the qualities of the coffee's origin, processing and hard work of the coffee farmers. ONIBUS currently roasts on a Diedrich and Bonanza roasts on a refurbished Probat. While our goals of roasting are inherently the same, our approach to achieve those goals differ. Bonanza pairs old and new methods of production, integrating new technologies with old methods, to constantly challenge norms and create a roast that is distinctly Bonanza. ONIBUS, on the other hand, uses a slightly more modern roaster and commits to a small handful of coffee farms with a goal of growing quality with its farmers together.
We're constantly comparing our coffees on the cupping table and always learning from one another. 
Having worked behind the bar in both Berlin and Tokyo our methods for coffee preparation do not differ greatly. We're both equally obsessed with using high quality machinery and efficient and clean service methods to produce the cleanest cup possible on a high volume.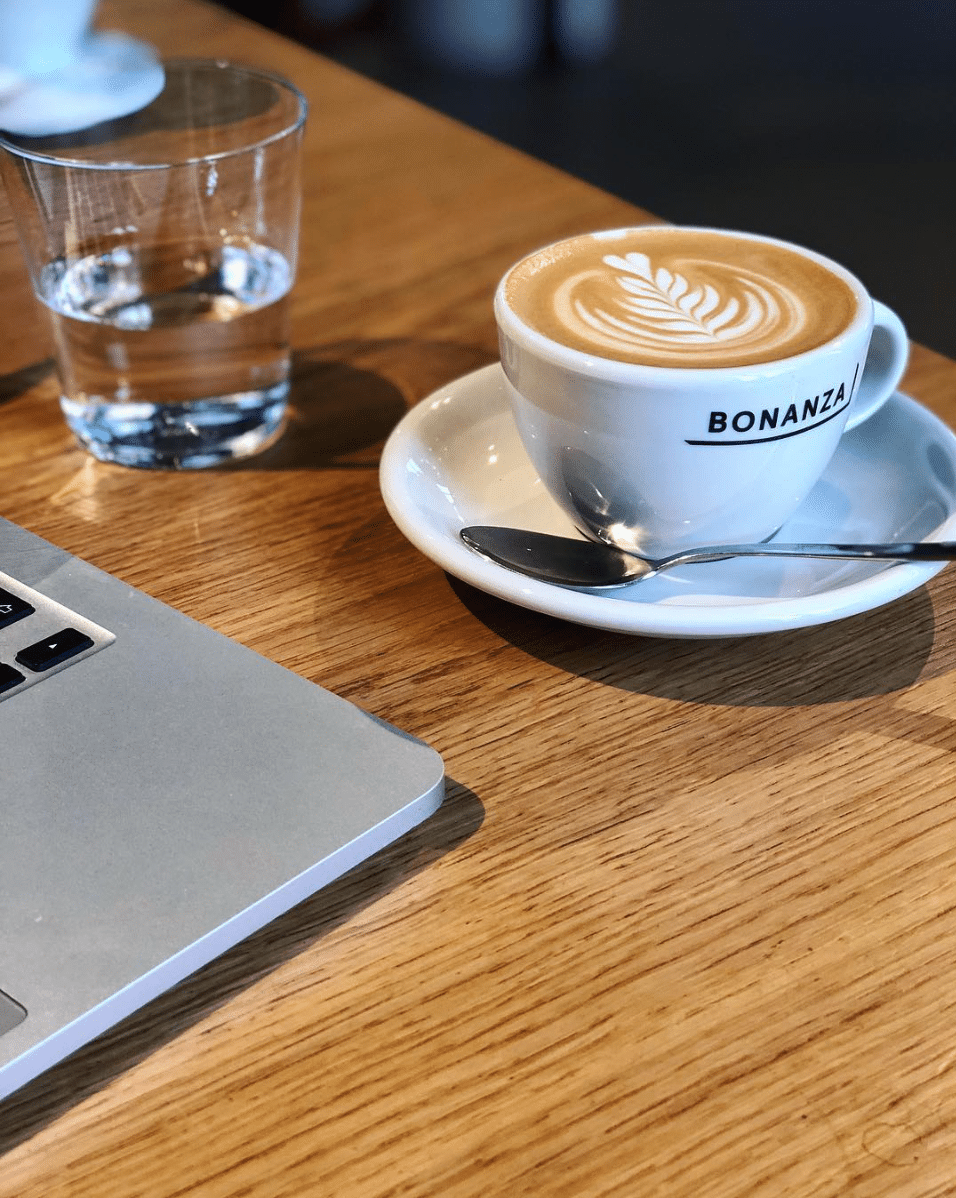 Menu Highlights
Both company's individual styles and approaches to coffee in one cohesive menu.
A featured coffee will be Espirito Santo – a Limited Edition washed-process coffee from Brazil that both Bonanza and ONIBUS have sourced green, then roasted using their own unique approaches. Bonanza's take will be served on the menu as espresso and in most espresso and milk-based drinks. ONIBUS has roasted theirs to be brewed as filter coffee and will be offered first as batch brew, then pour over later in the residence. Guests will be able to order this coffee individually, or as a special Tasting Set that includes a shot of espresso from Bonanza and filter coffee from ONIBUS. In addition, a very limited amount of gift box sets of the Espirito Santo that includes beans from both Roasters will be available for purchase! This coffee is limited and will be available only as long as supplies last, so give it a try early in the residence!
ONIBUS is also sharing their BFW Blend as espresso, and both Roasters have thoughtfully chosen a selection of single-origin coffees to be brewed as filter coffee throughout the residence.
Espresso Shake – Oh yes. Bonanza's recipe for their creamy and indulgent shake. The Seattle version will include a double shot of espresso and Molly Moon's Sweet Cream Ice Cream slowly blended into perfection.
Cold Brew – We'll be batching out this high-demand summer drink all residence long using a Guatemalan coffee roasted by ONIBUS.
Mocha – Shavings of Original Beans Dark Chocolate melted into espresso and steamed milk, then garnished with more chocolate.
Cascara Soda – A super refreshing beverage that blends house-made cascara simply syrup and sparkling water, served over ice.
The full menu for the Bonanza + ONIBUS residence will be available here beginning Tuesday, June 4.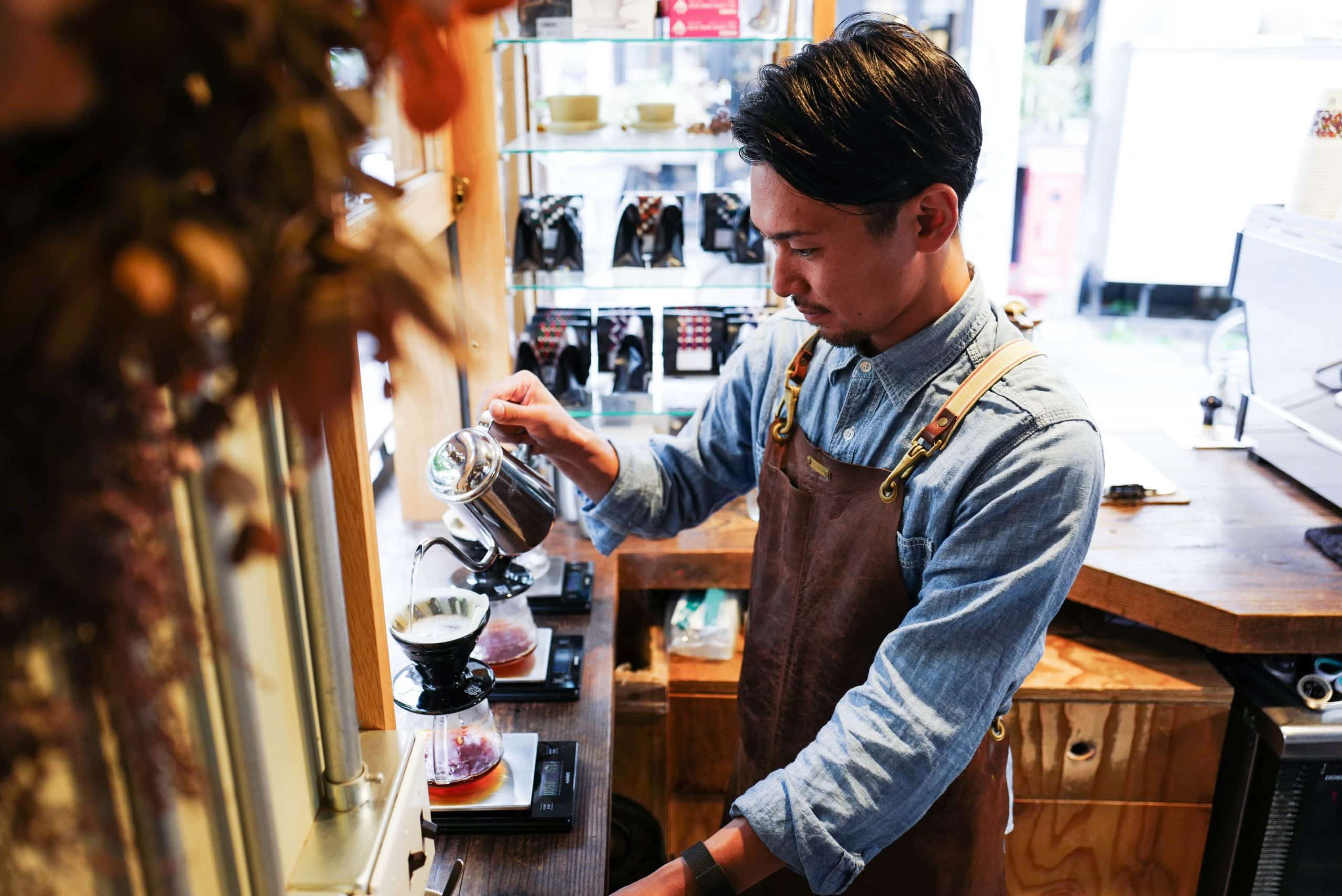 Events
Guest Baristas – Tuesday, June 4, 11 AM – 1 PM
On their launch day, Adrian Antoniewicz and James Koji Hunt of Bonanza and Hiroki Matsumiya, Wataru Kambe and Shuhei Yasutake of ONIBUS will be spending some time behind the bar preparing and serving their coffee to our guests in Seattle. Come out to meet them and say hello!
Launch Event – Wednesday, June 5, 2 – 4 PM
Adrian Antoniewicz of Bonanza and Hiroki Matsumiya of ONIBUS will introduce their companies with a short presentation on how they met and why they wanted to do this collaboration, along with a showcase on the values and ethics the two companies share.
The presentation will be followed by a coffee tasting that will highlight coffees from both Bonanza and ONIBUS and will seek to help guests develop a deeper love of specialty coffee.
Head to our Facebook Event Page to let us know you'll be there!