By Stef Ferrari
The first time I lay eyes on the TWA Hotel, I'm jet-lagged and bleary. I've stepped off an international flight just moments before, confused about time and place, worn down from more than a dozen hours hopping between various methods of transportation and leap-frogging across time zones.
Which may be why this stunning throwback structure reminiscent of air travel's mid-century golden age makes me feel as if I may have disembarked a time machine rather than a Boeing 747. And also why the notion of a good cup of coffee seems almost like a mirage to me—too good to be true.
But in fact, thanks to a partnership with Intelligentsia, those who step into the restored structure, originally opened in 1962 to function as the Trans World Airlines Flight Center, can count on getting more than a history lesson. Inside the once-abandoned building—now protected by the New York City Landmarks Preservation Commission—high quality specialty coffee is always on the menu.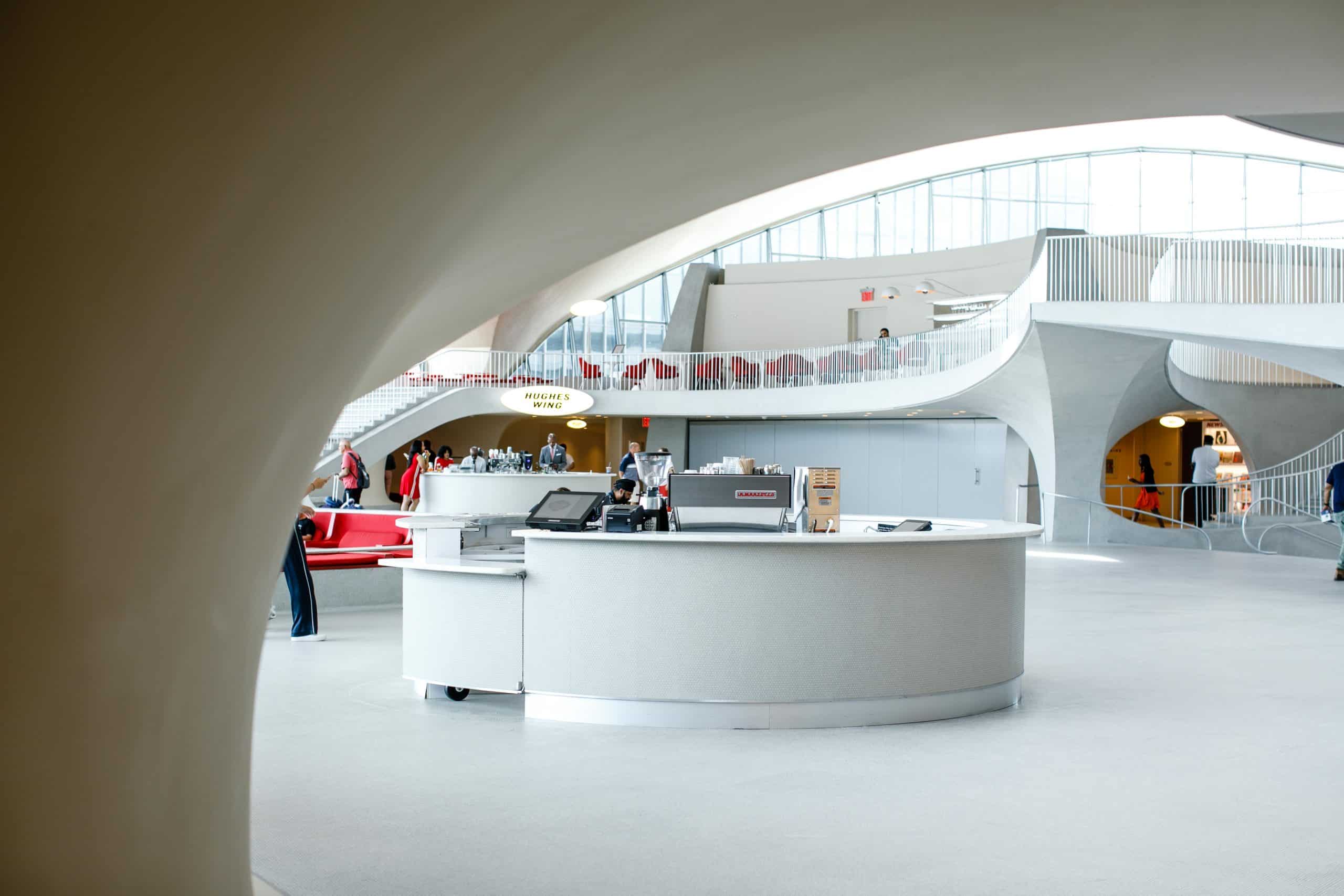 And as any frequent traveler is aware, this is good news given that the friendly skies aren't always so kind to coffee lovers. Being on the go, whether through airline or bus terminals, gas stations or rest stops, hotels, motels or just about any kind of accommodation, has long meant accepting cups of commodity coffee, spiked with powdered creamers or pump bottles of flavored syrups.
But in recent years, the food and beverage industry has recognized an untapped opportunity in previously underserved, travel-centric settings. Boutique hotels have sprung up, stocking mini bars with local spirits or snacks. Terminals and stations—perhaps exemplified by the nearby Jetblue hub at JFK—have begun offering higher quality options in terms of restaurants, snacks and drinks. And what's more appealing to the weary traveler than a restorative cup of coffee?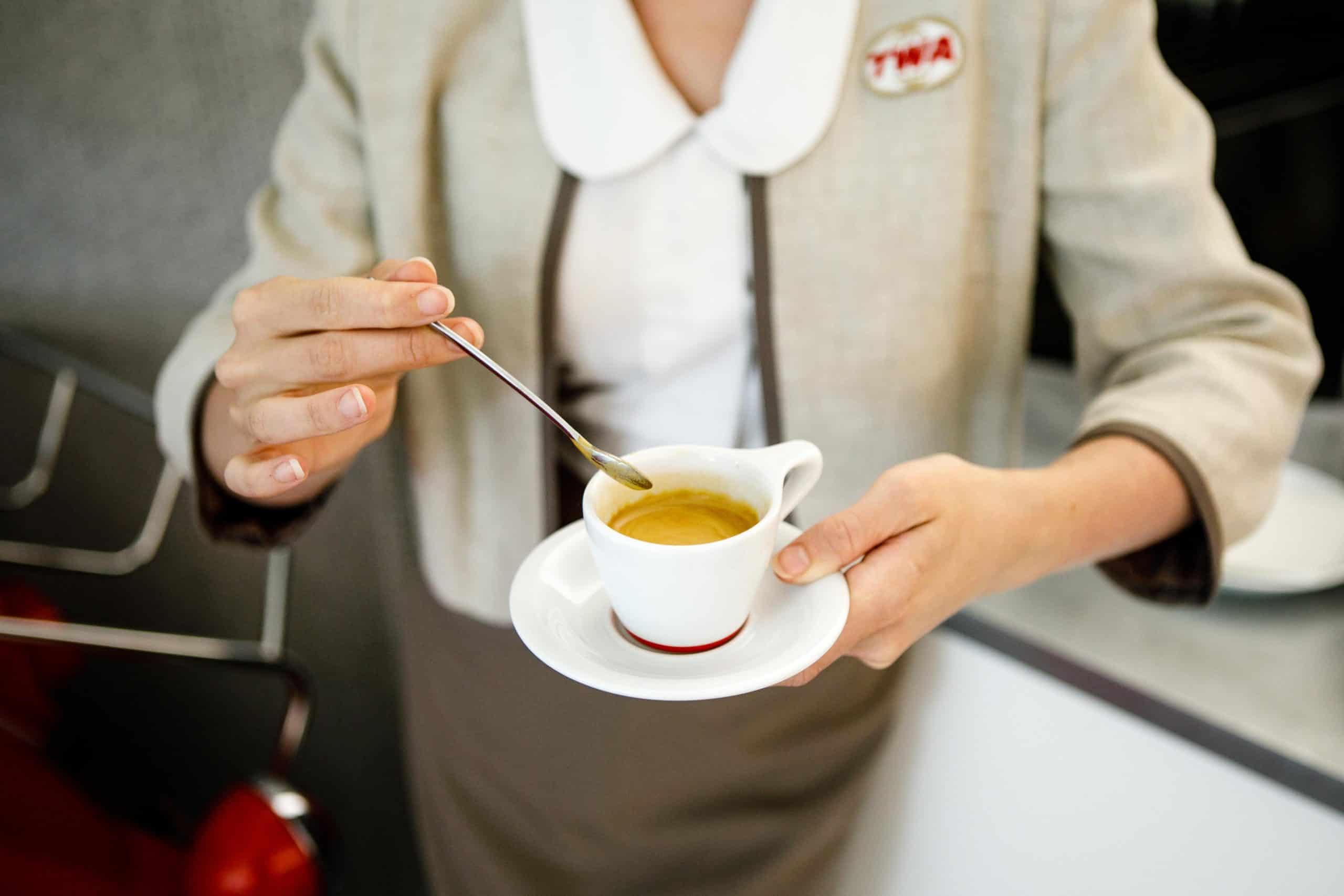 With that trend in mind, the team behind the TWA Hotel reached out to Intelligentsia to be a part of the project, building on a relationship they'd forged while working together on previous projects like the High Line Hotel in New York City.
The idea immediately appealed to Intelligentsia. "As soon as I walked in I knew we should do it," Intelligentsia CEO James McLaughlin tells me. Not only was the space "just one of those buildings that kind of takes your breath away," he says, but also was well suited to long-standing efforts of the company when it comes to selecting a location.
As it has grown and scaled, Intelligentsia has taken special care to find settings that not only accommodate an efficient service experience, but align with its product philosophy. "One of the things we're always looking for as a company is unique and interesting spaces," McLaughlin says. "Intelligentsia is in the business of blowing people's minds with our coffee. What we realized a while back is if we have a beautiful space that's well designed and unique, that's the entire experience for customers and really helps in our mission, which is pushing people's expectations around coffee."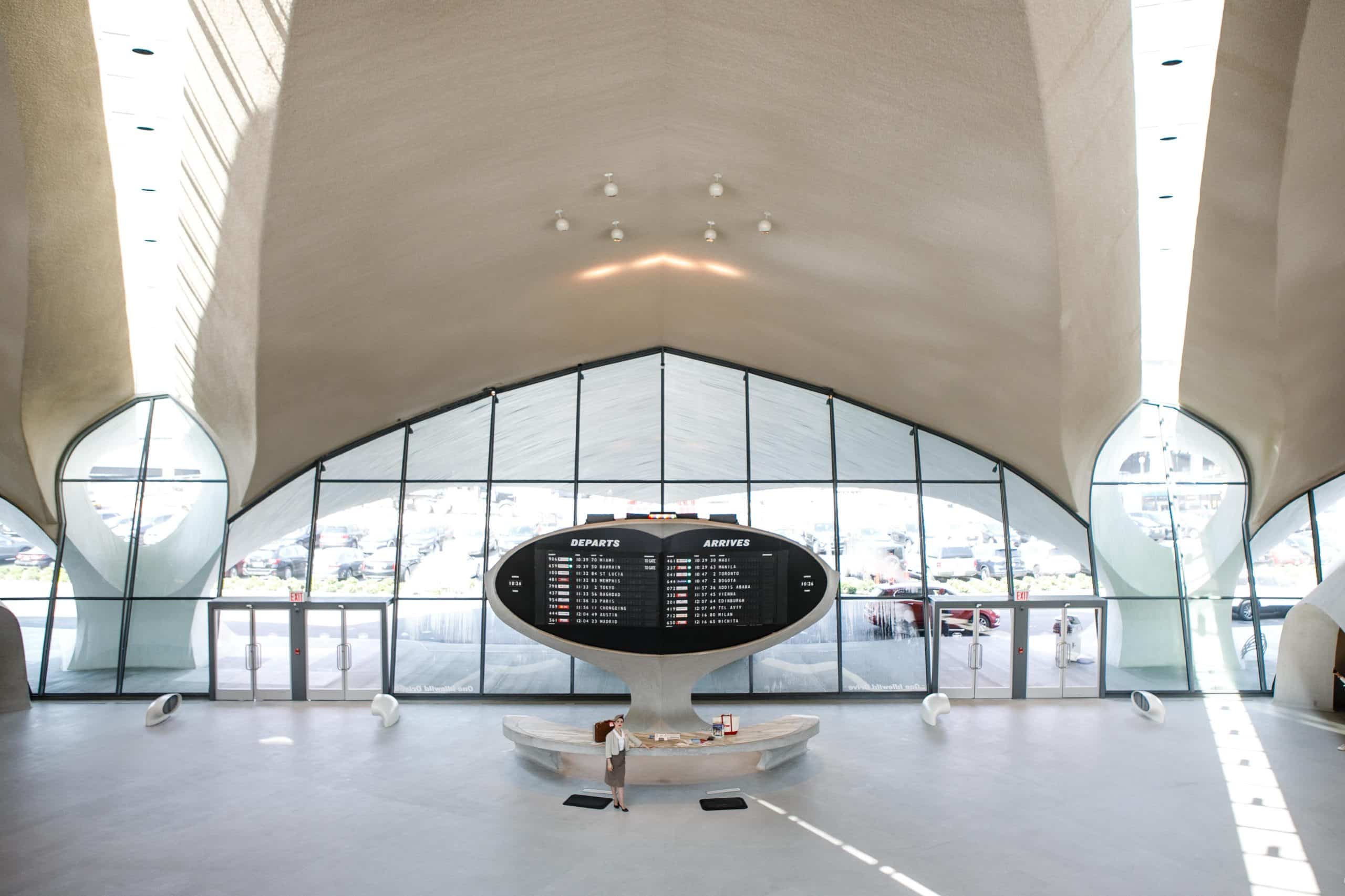 The TWA Hotel, with its intentional design and emphasis on specialty products like Intelligentsia's coffee (not to mention an entire on-site food hall and a Jean-Georges restaurant), is representative of a growing trend in hospitality. "What we're seeing generally in the broader economy is definitely playing out in the hospitality space," McLaughlin believes. "What people are looking for is integrity, in where coffee comes from and how [companies] are treating farmers. I think that's a general consumer shift," he says, also noting a willingness among those consumers to open their wallets a bit wider for something they consider high quality. "Consumers are willing to trade up; you're seeing [that in] other companies like Intelligentsia, ones that share our values and this idea of high quality food that maybe costs a little bit more." That shift is not limited to stand-alone cafés or restaurants, but extending to that same audience as it moves from one place to another. "We're also seeing it across the hospitality space where hotels, particularly high end hotels, are looking for better alternatives."
Trends aside, the TWA property is especially singular. For one thing, the design allowed Intelligentsia to get creative by utilizing not just the main coffeebar, but multiple spaces within the hotel. "It's a three acre campus," McLaughlin reports, a scale perhaps unheard of for a coffee company, and the scope encouraged them to ask, "How can we activate all these different spaces where customers can be?"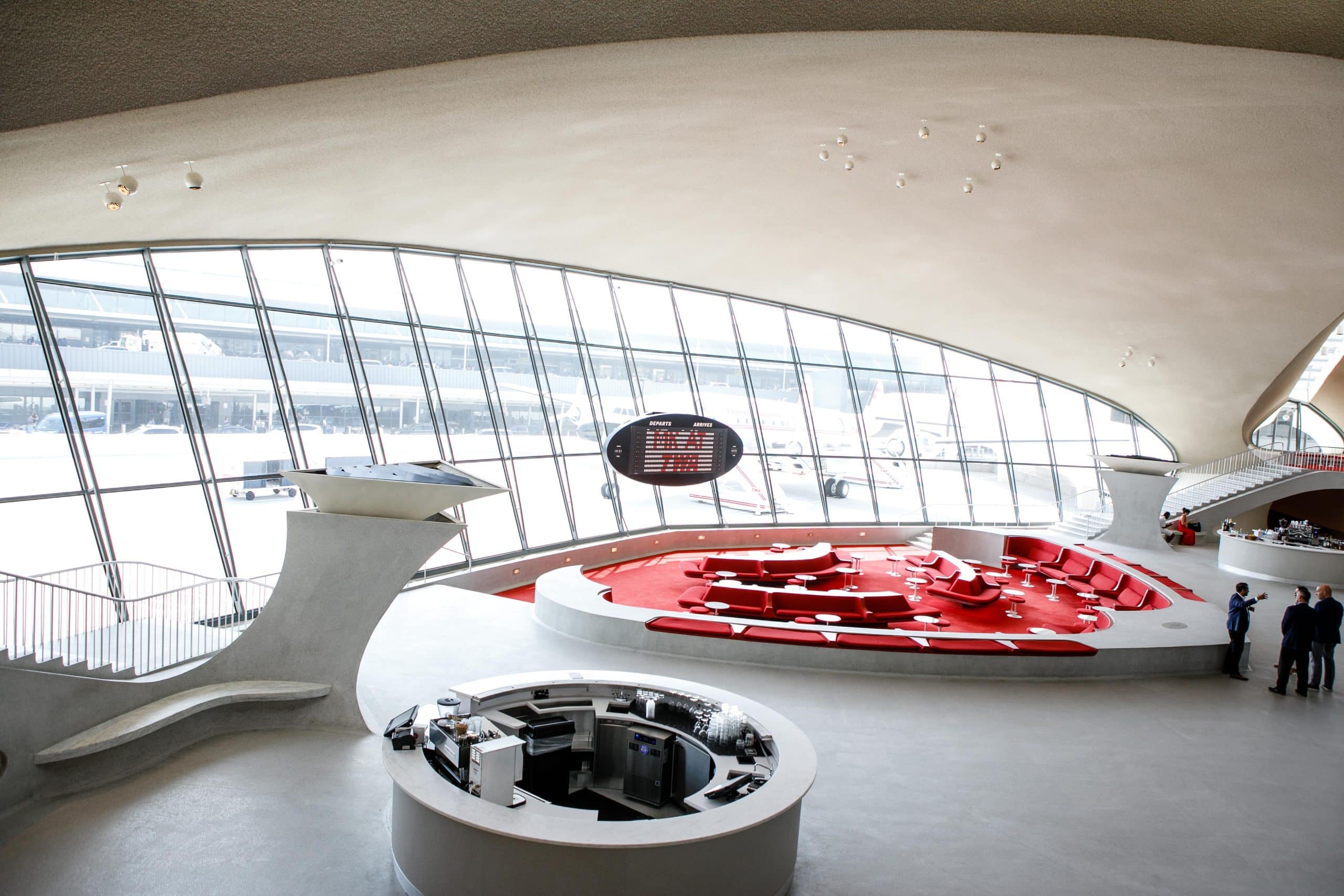 The answer comes as a dynamic selection of experiences. In addition to the main coffeebar situated in the lobby, there are roving trolleys which can be used to serve coffee and pastries for parties, events, or groups. These carts were designed to resemble the iconic beverage carts traditionally used for in-flight service by airlines. "It's something we've never done before, but it was kind of playful—very much in keeping with the airline theme." There's also a vintage Intelligentsia truck parked outside the hotel. "The idea there is that there are a lot of people who work at the terminal who don't have access to great food, so they can come out and sit and we can activate that space, [as well]."
Additionally, in collaborating with La Marzocco another serendipitous pairing was presented. "La Marzocco just launched a new espresso machine named after Kent Bakke (Board Chairman of La Marzocco International). The new gear just so happened to have a retro feel, intended to honor Bakke's legacy. "The timing worked out that we could be one of the first places that this was actually in use. It was one of those things that all kind of fit together perfectly. I'd love to say we planned it but I can't honestly say that," McLaughlin laughs. Intelligentsia not only loved the KB90 for its design, but they were excited to take advantage of the ergonomic benefits of the straight-in portafilter and the consistency provided by scales built into the drip tray.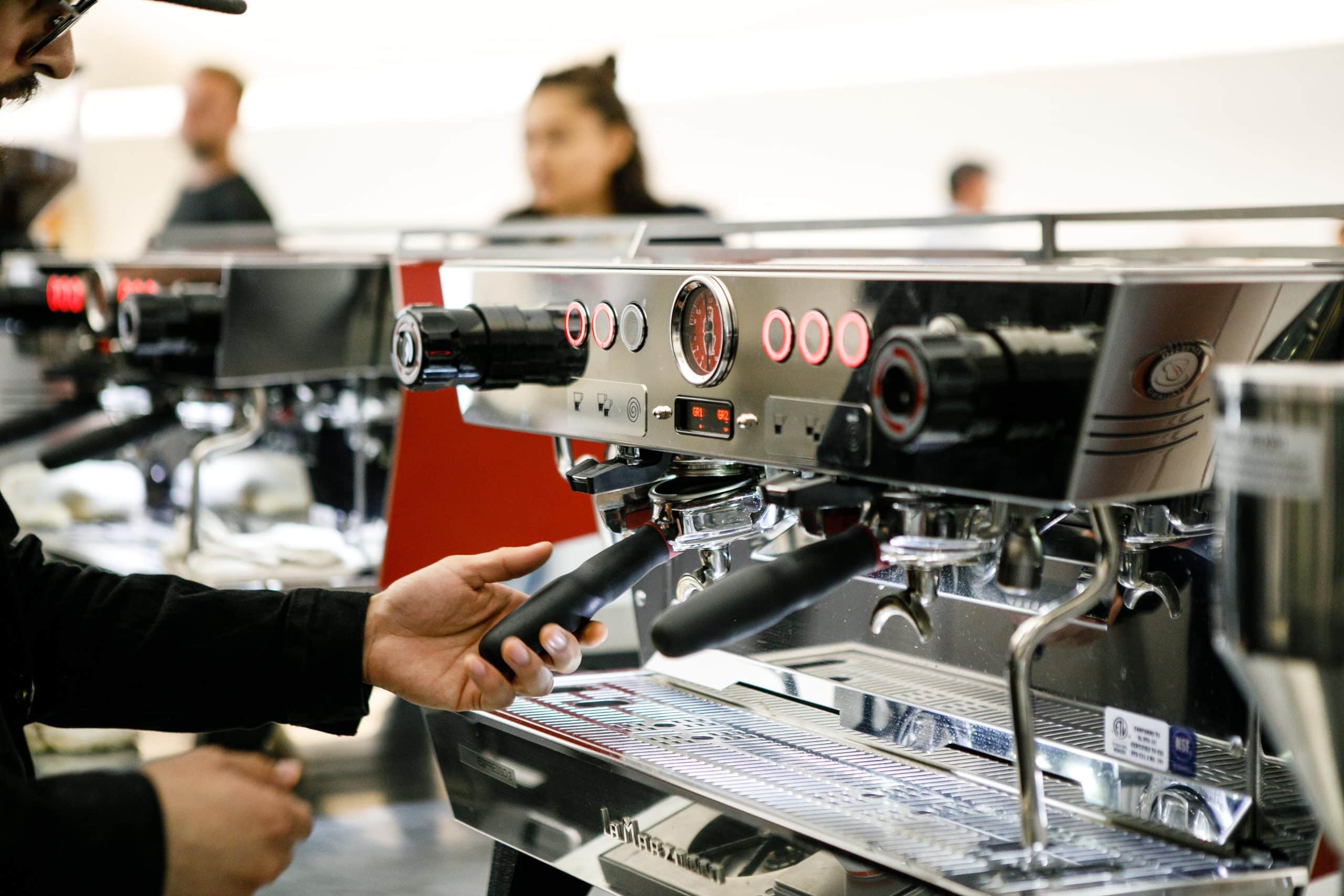 Perhaps the most exciting prospect of the project overall, for McLaughlin, is the chance to introduce new populations to specialty coffee—those global travelers that make their way through the international airport every day. "We fundamentally believe that the way we approach coffee is different from other companies, so getting to reach a much broader audience is a big part of the attraction."
This philosophy of allowing the space to guide the coffeebar's elements, rather than the other way around, has been a hallmark of Intelligentsia locations. "Every single one of our coffeebars is different. It's one of the most exciting parts of what we do, but also one of the most frustrating. We really don't have a cookie cutter setup, which means the development can take longer but it means we get to work with cool designers and architects," McLaughlin says.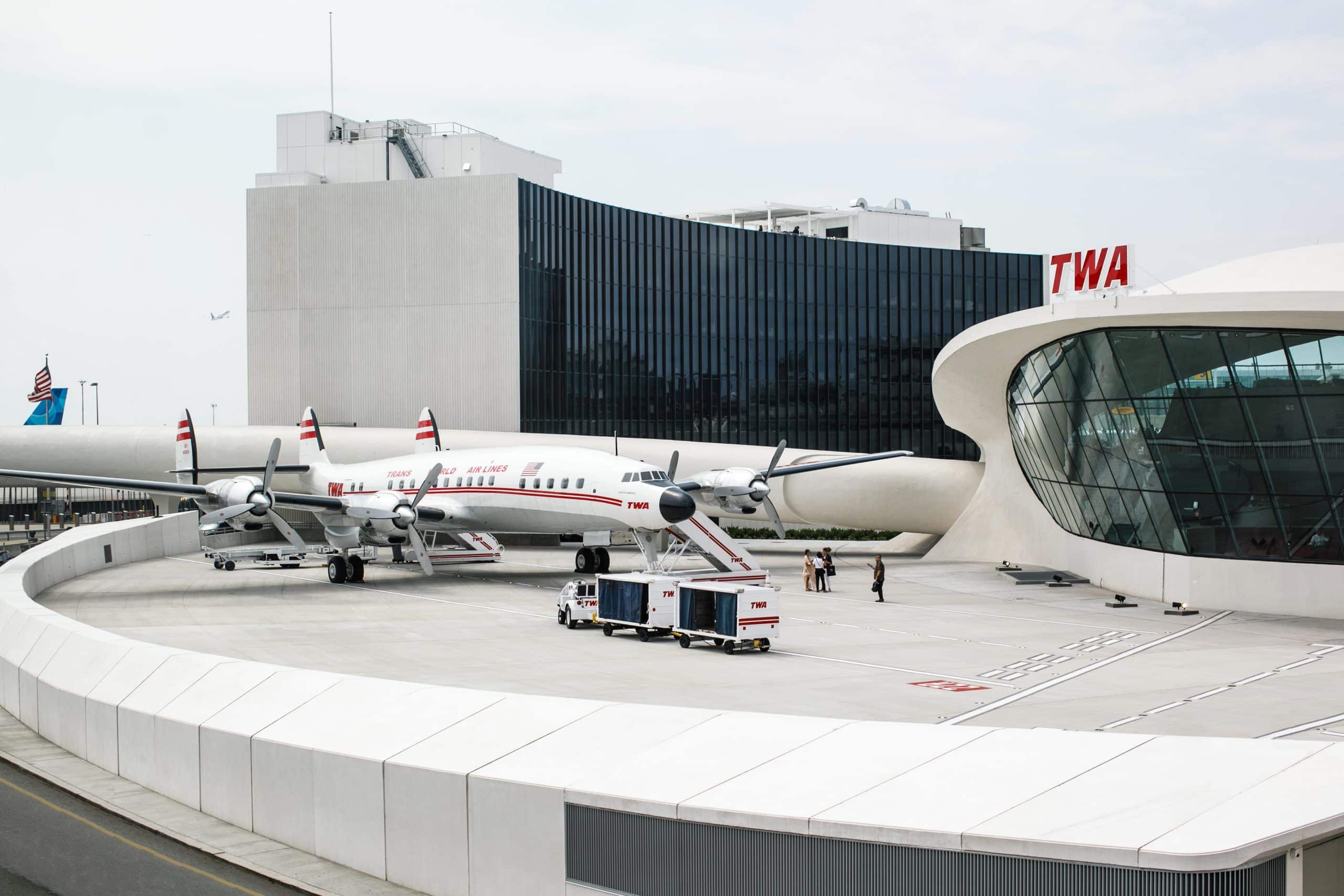 As opposed to brands that use design to stand out from their surroundings and be easily recognized, Intelligentsia is part of a new school of thought, in which companies intentionally adapt and blend into the areas in which they will be operating. "What we're trying to do from a design perspective is to create a space that a neighborhood can feel is theirs." The goal is to seamlessly integrate, rather than disrupt, encouraging a feeling that an Intelligentsia coffeebar is a natural extension of the neighborhood.
"From a community perspective, it really gives people some attachment and gives people a feeling like this is their Intelligentsia."
But the transient nature of a transportation hub is a departure from locations elsewhere and a new challenge for Intelligentsia, who has long aimed to be part of the routine for its communities; to be a place in which customers can become regulars. "We aren't going to have regulars; it's [going to be] new customers every day. We have one chance to make an impression," he observes.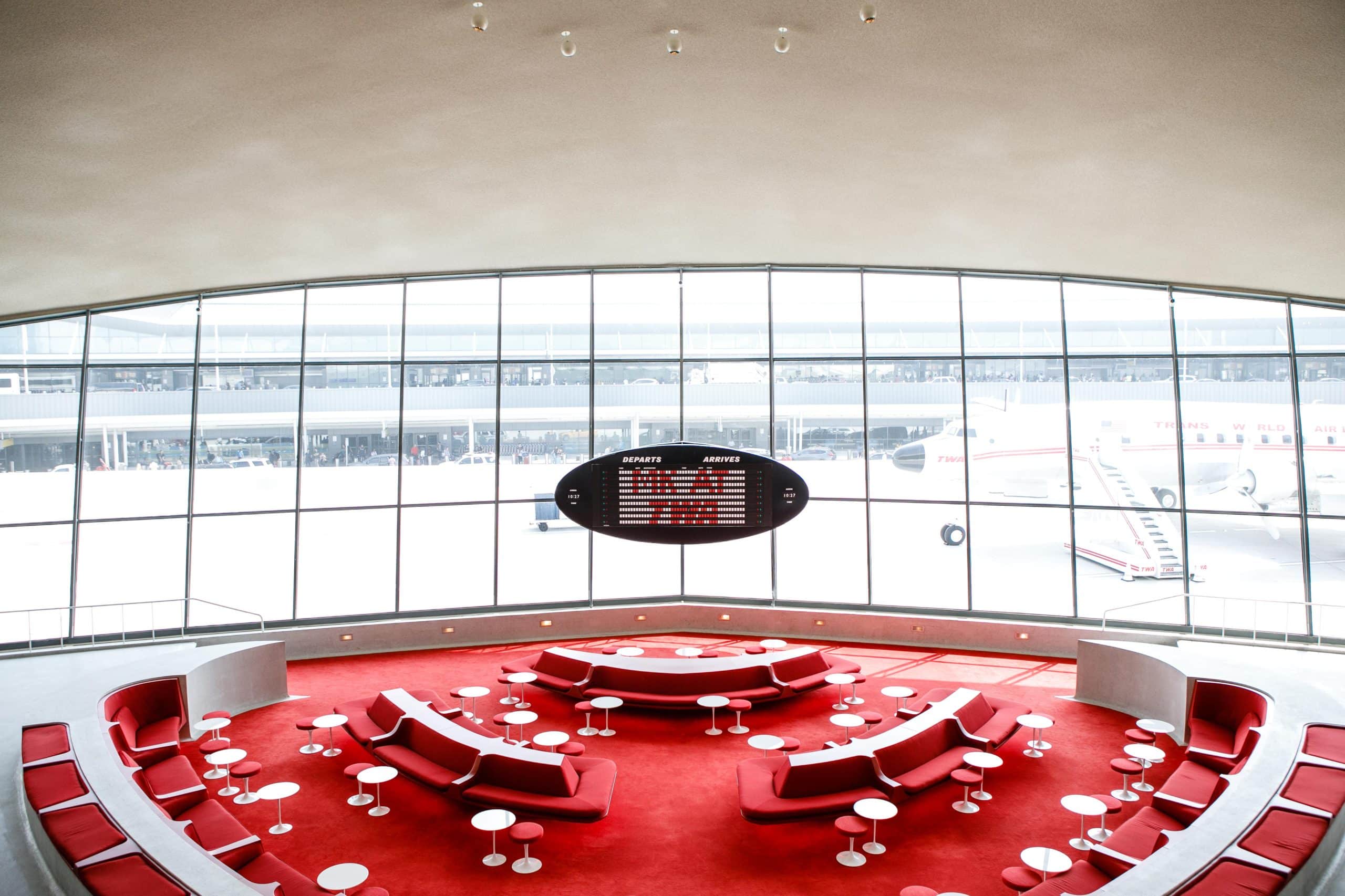 The Intelligentsia placement in the TWA Hotel's airspace offers a chance to test out new waters. It illuminates what stands to be a very important opportunity for specialty coffee in general, following the trend of some very strong examples from around the country. It's not a stretch that the savvy, avid traveler is the type that hopes to find more satisfying options for coffee when they're on the move, and the industry has responded. The Portland airport is home to a bustling Stumptown location, while hotels like the Durham Hotel in North Carolina (featuring coffee from their local roaster, Counter Culture Coffee), or the NoMad Hotel locations have doubled down on the importance their guests place on waking up to a quality cup.
And beyond immediate business in those locations and their surrounding areas, the travel and hospitality industry placement can function as a case study in international appeal. It's a chance to send travelers back to the locales from which they came with a taste for something new, and ultimately plant the seed of demand in markets around the world.
It's a test of philosophy and an experiment that makes this throwback property a glimpse into the future—of hospitality, of globalized products, of Intelligentsia and of specialty coffee itself. And it makes the days ahead for thirsty world travelers making a stop in New York City a whole lot more satisfying.