We've been packing up our crates and gearing up to head to Boston next week for SCAA Expo. We're most excited that the big day – April 12 – is almost here: the day we get to introduce the newest espresso machine in our lineup, the La Marzocco Linea PB.
We're not to April 12th just yet, but we wanted to give you a little sneak peek at some of the technology you'll see on our newest addition.
Last week we shared some of Ben Kaminsky's thoughts on volumetrics after reviewing some testing results we conducted in the La Marzocco Lab. His analysis made his opinion clear:
"In practical application, in a bar setting, baristas utilizing flowmeters are nearly 50% faster than those pulling shots without."
The La Marzocco Linea has come to be known as a workhorse of a machine: a durable, dependable classic that performs in the highest-volume settings. The Linea PB has been designed to continue this tradition, while also giving the barista new tools to prepare coffee more consistently.
As the specialty coffee community has taken a more in-depth approach to extracting espresso, we have come to more fully appreciate the value of flowmeters, and we believe flowmeters offer a path to providing the barista a dynamic measurement of espresso extraction. As such, we are excited to introduce the Linea PB AV.
The auto-volumetric system of the Linea PB will introduce a new feature, never before seen on an espresso machine. With a built in display, the barista will have the choice to view either the time of the extraction (just like the La Marzocco GB/5) or to see the number of cycles (pulses) moved through the flowmeter. Each count on a flowmeter is similar to .5 ml of water. Using this method, a barista will be able to see how much water has traveled into the portafilter. As Linea PB users become more familiar with the machine, they will be able to tell if their espresso is extracting too fast or too slow by how quickly the pulses count through the flowmeter. For the first time, the barista will have a dynamic measurement to understand the rate of extraction – rather than just time or volume. Ultimately, this new unit of measure will further put baristas in control of their extractions.
Each group head of the Linea PB has three buttons. Two buttons are programmable to a certain number of flowmeter cycles. The other button is a manual brew button, giving the barista the same start/stop control of a semi-automatic (EE) espresso machine. These buttons are silicone membrane switches, and are backlit with LED lights. Each switch has a life span of over a million cycles.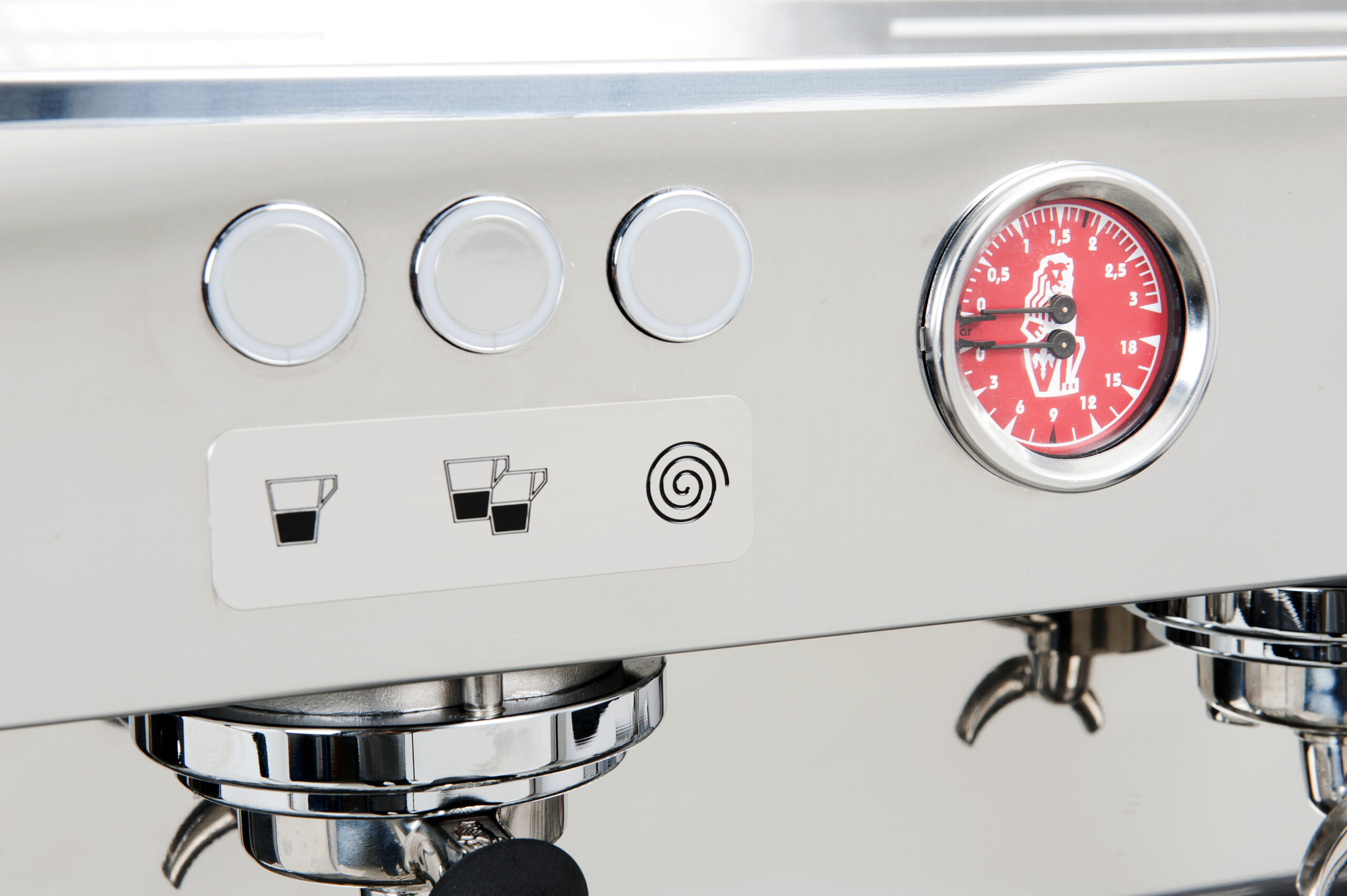 There are many other features of the Linea PB that we look forward to sharing with you over the coming weeks. We hope to see you in Boston (Booth #519), but if we don't, be sure to check back here for more updates as we reveal the next generation of a classic.