The La Marzocco Cafe has been made over with bright blue worker jackets, handpainted signs en français and delicious French coffee. Belleville Brûlerie, a wholesale roastery in France, began its month long residence last week with a menu inspired by its own Parisian sidewalk cafe, La Fontaine de Belleville. In addition to sharing great coffee with Seattle, Co-founder David Flynn is intent on making people feel comfortable and giving them a good experience. Read on as we explore Belleville's menu and head over to the Cafe between now and November 6 to indulge in it!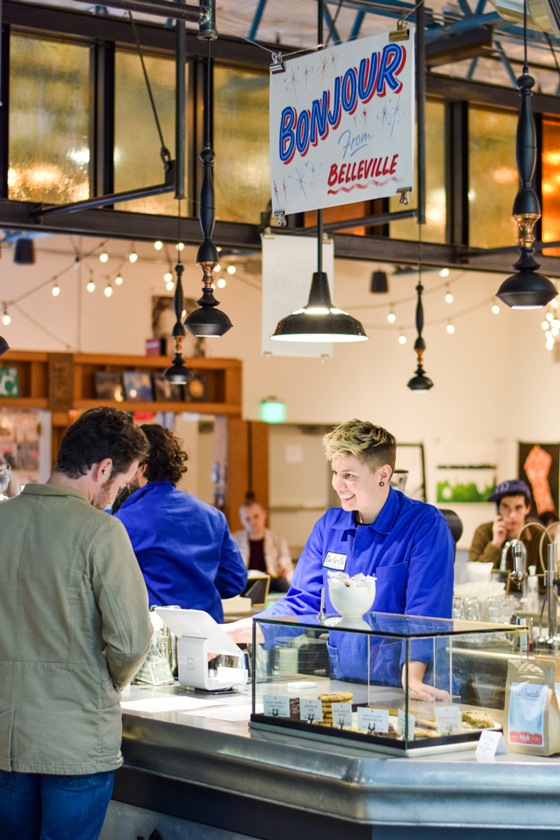 Espresso 
At La Fontaine de Belleville, espresso is pulled slightly longer than the Italian ristretto, an updated version of what one would find in a classic French bistro. Choose from one of two blends during Belleville's residence in Seattle – La Fontaine de Belleville, or its latest, Chateau Belleville which is being launched here! Each component in Chateau Belleville is a high quality coffee that could easily stand alone, and as a blend becomes big, jammy, and reminiscent of a French bordeaux.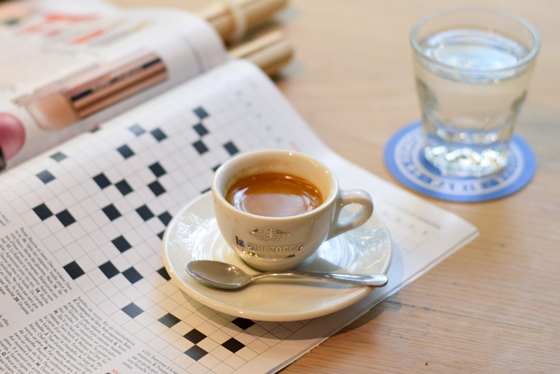 Allongé 
The Allongé is an extremely popular drink in France, a happy medium between an espresso shot and an Americano. It is short enough to pack a flavor punch with great texture, and long enough to enjoy while catching up on the day's news.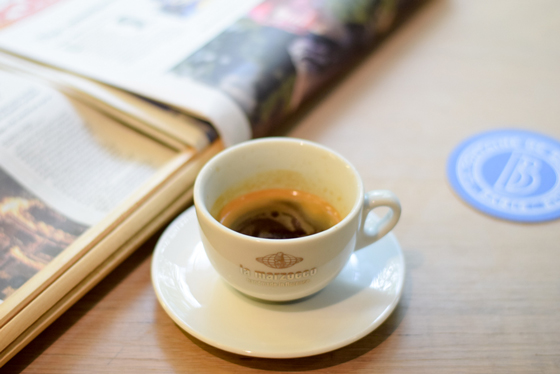 Filtre du Jour 
In France, filter coffee is not-so-lovingly referred to as jus de chaussette, or sock juice. Belleville Brûlerie therefore, makes it a goal to have the best sock juice around! For its residence, filter coffee will rotate between the Chateau Belleville blend and three delightful single origin coffees. Not to miss is the Neptaly Bautista from Honduras. With flavors of tropical fruit and honey, it was the first coffee purchased by Belleville and the entire specialty harvest is purchased by them each year.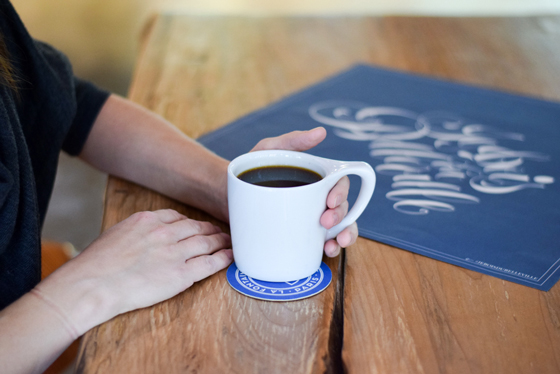 Café Crème 
The Café Crème is the quintessential French milk drink, made just a little smaller than a cappuccino. It is the perfect beverage to enjoy alongside a cookie or some shortbread – and yes, dunking is encouraged! Pictured below with a Sablé au Romarin, a French-style butter cookie flavored with fresh rosemary.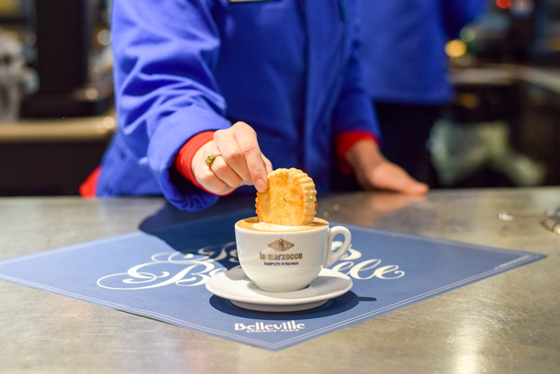 Chocolat Chaud 
As noted on the menu, Chocolat Chaud is a big deal in France and the children would revolt if they were not allowed to drink it. We assume some adults might too. Belleville's Chocolat Chaud is made with 70% Valrhona chocolate discs added to milk then steamed. For a truly authentic experience, pair it with the Classic Tartine – toasted baguette with salted butter and seasonal jam.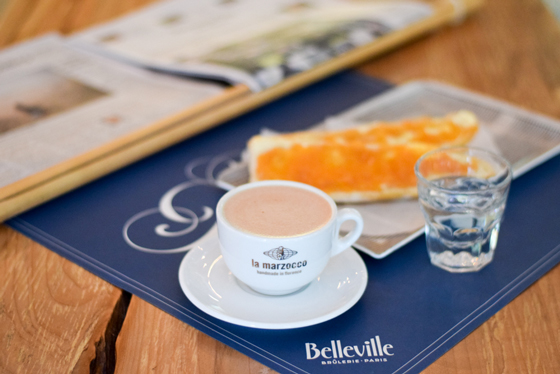 The Countryside Tartine 
For a more substantial treat, this tartine is a must. Fresh goat cheese, Washington State wildflower honey, olive oil and a sprinkle of red pepper flakes top toasted country-style bread baked by The London Plane. It's sweet, savory and spicy all in one.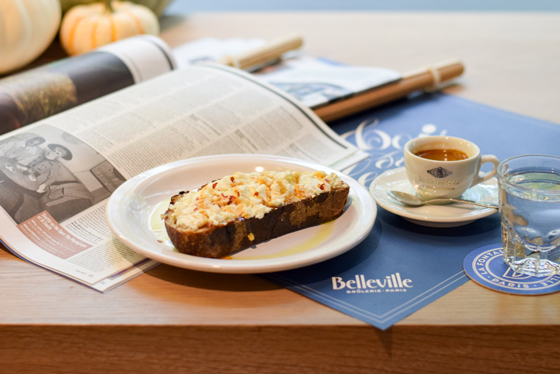 To read more about Belleville Brûlerie and their cafe, La Fontaine de Belleville, we recommend this article written last year by our friends at Sprudge. To view Belleville's menu at the La Marzocco Cafe, head here.