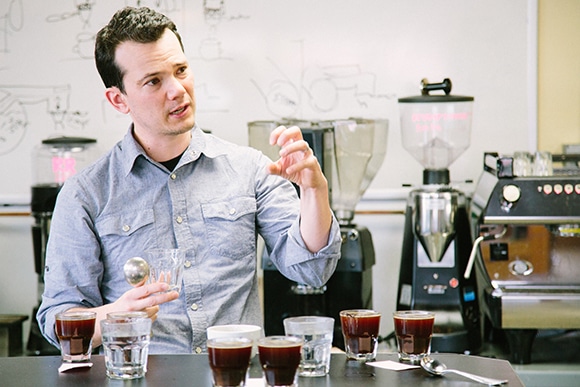 La Marzocco continues to understand the value of bringing the coffee community together in the spirit of sharing knowledge, and fostering discovery. Knowledge-sharing, and the discussion of ideas makes all of us better: it makes us better professionals, helps us collectively push the industry forward, and helps bring more people into the fold of coffee discovery. Our commitment to this idea is the reason you'll see us investing in organizations and activities that provide platforms for discussion and discovery – places like BGA Camp, the MANE Conference, and East Coast Coffee Madness in Montreal.
Today we're excited to announce a new event series, grounded in the idea of knowledge-sharing and discovery. We hope this new event series can serve as a platform for baristas to present ideas, experiences, and explorations in coffee to the specialty coffee community, for the purpose of challenging and inspiring one another.
We're beginning with two events that will take place in November; based on feedback from attendees, we'll evolve the concept and hope to bring more of these events to additional cities in 2017.
The first two events will take place in November, in two cities with burgeoning specialty coffee communities: Columbus, Ohio (November 15), and Detroit, Michigan (November 17).
We've developed a format for these events that we hope will encourage presenters to bring their best ideas, and also give them the opportunity to make attendees part of the experience.
For those familiar with barista competitions, this format will seem similar. Presenters will be provided with a workstation equipped with two tables, an espresso machine, and two espresso grinders. The barista can use the station however they choose, and they will have 15 minutes to present. From there, the presentations, and how they are presented completely depart from the competition format.
Presentations will not be limited in how each presenter uses the equipment, or the types of beverages that are prepared, or who (and how many!) people are served during the presentation. Our goal is to provide a forum where the barista is in full control of the experience and the ideas they want to share. Making beverages is not even a requirement, should a presentation stand on its own without a sensory experience.
Our hope is that this event series becomes the place for things like experimental extraction theories, coffee brewer hacks, delicious signature beverages (coffee-forward or not!), special process coffees, and just about any other idea someone wants to share with the community. Our hope is that coffee-curious people can take this opportunity to share the things they are passionate about, and hopefully in the process, we all might come away having learned something new, or having been challenged in some way.
If you're curious about this new format, we hope you'll join us. If you have an idea, a special coffee, or an experience you would like to share, we look forward to hearing from you. Later this week we will be announcing more details about how to attend the events, and how to submit your idea for consideration to be presented at these inaugural events.
Stay tuned!
If you have an idea and would like to apply to be a presenter, please tell us more about it in this application form.