It's hard to believe it's been ONE YEAR since we, La Marzocco USA, restarted the business and regained LM distribution in the USA from a not to be named, massively orange logoed,  superautomatic espresso machine company.
For those newer to the industry or never quite got the whole story, here's a recap of how Kent Bakke and La Marzocco came to be and, along the way, helped to establish the specialty coffee industry that we now know today: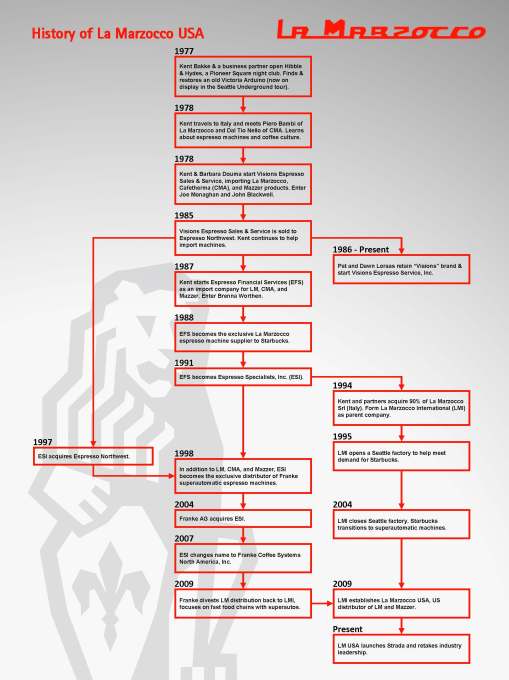 So who is La Marzocco USA now?
Kent Bakke, CEO: Friendliest guy you'll ever meet. Depository of all things espresso and Italy. Human directory of all coffee people.
Joe Monaghan, President: The leader of the pack. Loves pizza and nougats.
John Blackwell, Tech Guy: If it's mechanical, he knows how to fix it. Builds race cars, too.
Mike Lanz, Western US Sales: He's the tall, goofy guy in the crowd. No, that one.
Michael DelGatto, Eastern US Sales: Total foodie. Easily makes restaurant worthy food.
Roger Wittmann, Tech Support: If only callers can see his big poofy hair. Highly technical in espresso machinery, as well as bikes.
Jack Kuo, Marketing: Too much for this blog. Remains in the shadows.
Brenna Worthen, Machine Orders: If you call in, chances are that's her on the line.
Connie Marquardt, Controller: Decides who gets paid or not.
Kevin Colello, Parts: Takes parts orders, packs said parts, ships, repeat.
Andy Stazel, Parts: He's really really really tall.
Luke Steitz, Logistics: Likes a neat, organized warehouse. He's really around because we like his dog, Melody, the company mascot.